Celebrity Baby
Bump Watch
Happy Hump Day, also known around here as Celebrity Baby Bump Day! Now that Jessica Simpson has had her baby, we have a new group of celebrities that are fighting over the title for biggest baby bump. From Alyson Hannigan to Lisa Loeb and Reese Witherspoon, check out the celebrities that are about to pop!
(page 5 of 6)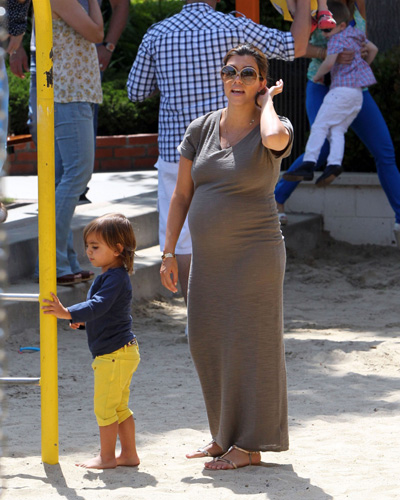 Kourtney Kardashian
Kourtney Kardashian is having fun spending time with her son Mason before she gives birth in late June. She showed off her huge baby bump in a tan maxi dress as she played with her son in Malibu.
What is Kourtney craving during her pregnancy? Kim Kardashian tweeted a photo of In-N-Out burgers with the caption, "The pregnant woman made us do it!!! Grr!"
Kourtney's response?
"And it was worth it! Team pregs," she tweeted.
Next up: Sienna Miller's big baby bump