Celebrity Baby
Bump Watch
Happy Hump Day, also known around here as Celebrity Baby Bump Day! Now that Jessica Simpson has had her baby, we have a new group of celebrities that are fighting over the title for biggest baby bump. From Alyson Hannigan to Lisa Loeb and Reese Witherspoon, check out the celebrities that are about to pop!
(page 4 of 6)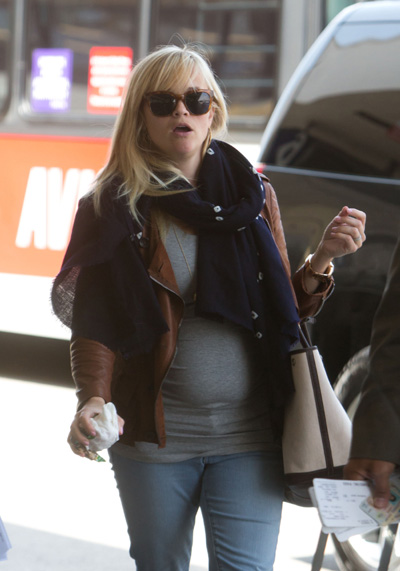 Reese Witherspoon
Even though Reese Witherspoon has yet to speak out in public about her pregnancy, her baby bump is doing the talking for her! The actress was spotted at the Los Angeles airport showing off her growing belly in the Isabella Oliver Cap Scoop Top paired with a blue scarf and jacket.
This will be Reese's third baby, however her first with her new husband Jim Toth. She has two children, Ava and Deacon, with ex-hubby Ryan Phillippe.
Reese isn't letting pregnancy slow her down, as she and Jim were spotted going on a double date with Kate Hudson and Matt Bellamy before the White House Correspondents dinner in Washington DC last week.
Next up: A Kardashian-sized baby bump