Emotional growth in 5-year-old children
If I've come to understand anything about parenting, it's that just when you think you have figured out how your kids work, they will quickly change and you have to re-learn everything that you thought you knew. In recent weeks, I've realized I have a few things to learn about my 5-year-old.
It finally happened. I completely mortified my daughter.
It was just two weeks ago, but I honestly couldn't tell you exactly how it all happened.
What I do remember is trying to talk to our family friend, Briana, who helps with our kids one morning a week while I work.
I don't remember what I was even saying to Briana, but I was probably going over what the morning would hold and what the kids would have for lunch.
Mistakes made
While I was talking, Katie, my 5-year-old daughter, interrupted me repeatedly. She counts the days and the minutes each week until Wednesday morning, when Briana comes to "play with her" and beams with joy when she walks through the door and she just couldn't seem to contain herself.
I remember growing impatient with her and pausing to her to ask her to please stop interrupting me. I then turned back to Briana and finished what I was saying.
The next thing I heard was Katie sobbing. It all happened so fast but in that moment I could see in her face that I had handled the situation so poorly.
For the first time in her life, she was openly embarrassed and I was the cause of it.
Lessons learned
I was truly taken aback by her emotional reaction. Up until that morning, she had always listened and adjusted her behavior when I corrected her.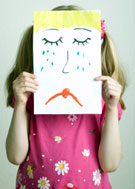 My subsequent apologies had little effect on her and I realized that after all this time, just when I thought I knew how she was wired, she was changing the game on me.
I turned to my friend, Katie Hurley, who is also a child, adolescent and family psychotherapist and parenting expert, and gave her the play-by-play.
Social and emotional growth
After I recounted the entire incident and beat myself up for a few minutes, Katie calmed me down and offered this helpful insight:
"I've seen my Katie change, seemingly overnight"
"Five is a big year for social and emotional growth. On the positive side, kids tend to become a bit more independent at this stage of development and generally like to follow rules. However, they are also on a mission to please others and are becoming more aware of what others might think of them. This can lead to internalizing negative feelings in the face of behavioral correction and feelings of embarrassment when corrections are made in the presence of others."
That's exactly it. I've seen my Katie change, seemingly overnight, from a little girl, oblivious about how she's perceived, to a big girl with a newfound awareness of how she's perceived by others.
Now I know that I have to handle things differently and pull her aside and speak with her privately to save her from being embarrassed.
Moving forward
This week, I'm grateful for second chances with my daughter and for a friend who will hear me out and share her wisdom with me.
Tell Us
Have you seen developmental changes in your children that have come completely out of the blue? I'd love to hear your stories.
More on child development
Go out and get dirty!
Winning against whining
10 Simple ways to bond with kids