The trendiest bathing suits for the summer
It's that time of year — bathing suit season! It's not always fun to buy for yourself, but it's always fun to buy for the kids. Here are my personal faves for girls for the summer!
Usually when May rolls around I look at my body and sigh... "Oh, great. Another bathing suit season!"
As much as I always think I'll "be ready" for a bikini, I never really am. I haven't been able to lose this "baby belly" since 2008! In all honesty, I could pass for a good 8-12 weeks pregnant (which I'm not!). So putting it lightly, I'm not always too excited about this time of year. Regardless if I like it or not, bathing suits are essential for the summer and they need to be worn on the pool deck and on the beach.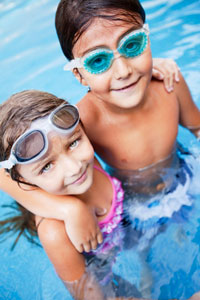 But... bathing suit shopping for my children is a whole different story. I actually love it!
This season I had the pleasure of shopping with my nieces for bathing suits, too. Usually I just get to shop for my four little men. Since I'm a nervous-nelly on the pool deck and beach, I always end up picking out matching loud and bold bathing suits for my sons. I want to be able to spot them a mile away on the beach. Fortunately nobody has given me pushback on it... yet.
My nieces? Well, they were another story. They wanted girly, girly, girly... and I loved, loved, loved it!
So what am I loving this week?
I'm loving the trends in girls bathing suits! Here are five of my faves!
They're everywhere thes days and they've made their way into swimwear for girls! I love the look because the polka-dot trend is so timeless and classic. I love that it's a trend that any girl could wear, from 2 months to 14 years old (and older!). It's just a beautiful trend and works on everyone.
I'm not used to seeing paisley on bathing suits for little girls, but I have to admit, I love it. J.Crew is really going over-the-top with this trend and I think it's girly and feminine and perfect for a little fashionista swimmer. It's one of those trends where you look back at photos years from now and say, "I just loved that suit!"
If you've got a little lady who loves to sparkle and dazzle in her clothes, then she's going to love a bathing suit with some bling-bling embellishments! It's the cutest and most adorable trend for a little fashionista! I think it's absolutely stunning and a total show piece. The GAP has some adorable options right now for little girls!
If you want bright and bold, look for some bathing suits with floral designs all over them. I'm seeing them everywhere right now. With tangerine being the color of 2012, it's amazing seeing the colors really blast out and be present through swimwear for girls. I personally love the florals because it instantly makes me happy!
Oh, yes... you read that correctly! My niece went ga-ga over a denim suit from Lands' End. I have to say, I think it's totally cool. I'm a denim lover all on my own; I love how they're bringing in the denim craze throughout swimwear. What a fashionable and smart trend! I'm all for the denim suits for girls!
More on kids clothing
Where are the modest bathing suits for girls?
Where to shop for kids clothing
The ultimate swimsuit shopping guide