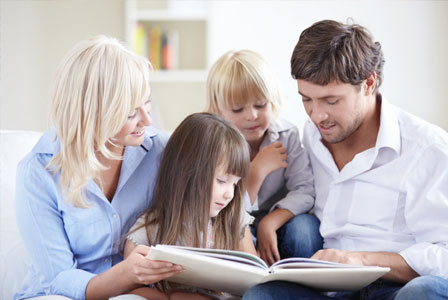 Not all children think they love reading and many kids would rather do anything but sit down with a book.
Turn your reluctant reader into a book lover
With a bit of help from their loving, determined parents, and some helpful tips and tricks, even the most resistant reader just might come around.
Play matchmaker
Matching your child with the right book is the best thing you can do to get them reading, but it can be tricky to find that one book that spurs a love of reading. Working from a book list is a great option because the bulk of the work is done for you.
ReadKiddoRead, a website created by popular author James Patterson, is a helpful resource for finding the right book for your child.
Drop Everything and Read has a great book list divided up by age of the reader.
If you have a son who hasn't discovered the joy of reading, check out Guys Read, a site that breaks books into categories to match readers with books they're sure to love. With a list of categories that includes robots, animals and action/adventure, your child will quickly find the perfect book.
It may take some time to show your child that reading can be fun, but by providing him with a supportive environment and some guidance, you may be surprised by just how much he comes to enjoy reading.
More on kids and reading
Top 15 books for preschoolers, kids and teens
Controversial children's books
SheKnows parenting awards: Books