How to parent the over-indulged
The most well-adjusted children come from homes where there is a balance of love and discipline, says Sheri Moskowitz Noga, M.A., a psychotherapist in Royal Oak, Michigan, and author of Have the Guts to Do it Right: Raising Grateful and Responsible Children in an Era of Indulgence. The least well-adjusted kids come from homes that are overly-indulgent, says the mother of two who felt compelled to write her book because of the escalation in depression, anxiety, and narcissism she's seen in children in the last decade. Noga shares her gutsy advice with SheKnows.
Over-indulged nation
Is it doable to raise grateful and responsible kids in an era of indulgence?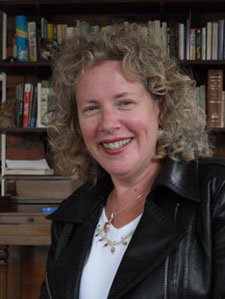 Sheri Moskowitz Noga: It's possible to raise grateful, responsible children in the current cultural climate of over-indulgence, but you need self-control, follow-through, and the ability to think and act independent of your cultural influences.
What's getting in the way of kids learning gratitude?
Noga: Many children aren't learning to be grateful because their parents aren't expecting it of them. In parents' desire to make their kids happy by giving them every material and experiential opportunity, they're inadvertently creating offspring who feel entitled. Entitlement — the belief that I deserve something just because I exist — is the opposite of gratitude.
Go with your gut
Are parents struggling with how to go about raising grateful, responsible and well-adjusted kids?
Noga: The main reason I wrote my book is because of the confusion and struggles that I saw in parents in my practice. Most weren't happy about how they were raising their kids — tolerating disrespect, not following through with consequences, giving too much and getting little appreciation or cooperation in return — but didn't know what to do about it. They compared themselves to other parents who were doing these same behaviors, and didn't trust their own "gut" about how to parent differently.
With ample parenting resources available today, what are parents still not getting?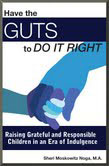 Noga: The plethora of material available to parents is likely part of the problem. Parents have lost faith in their own abilities as they've bought into the myth that they're entirely responsible for their children's happiness. It's difficult for parents to accept that their children need to struggle to grow, and that they're not failing their children if they allow it.
Forget happy
What's your take on parents who just want their kids to be happy?
Noga: Parents who just want their kids to be happy might have the best of intentions, but they're not looking at the long-range needs of their children. Adversity is part of life — it's our job as parents to help our children develop the emotional capacity to withstand the challenges of adulthood.
Be brave enough to set standards for your children to live up to, and strong enough to convey a consistent message and give consistent consequences. Your children will be happier, calmer and fare better in their adult lives if you do.
Tips to teach your kids gratitude and responsibility
Stop comparing yourselves to others and over-indulging bad behaviors in your kids
Expect respectful behavior at all times and teach them to identify with the feelings of another
Don't encourage excessive dependency
Parent with appropriate and loving authority
Do hold your child to high standards in the areas of kindness towards others, responsibility for the self, and appreciation for all you give them
Teach your children the connection between work and acquiring goods
Don't treat your child like he is the center of the universe
Hey, Moms
How do you teach your kids about gratitude and responsibility? Share your thoughts and stories in comments below.
Read more on kids and gratitude
How not to raise a brat
If you're grateful and you know it, write a note!
Teaching kids to be gracious