Celebrity Baby
Bump Watch
It's the middle of the week which means it is Wednesday for some, Hump Day for others – and Celebrity Bump Day for us! We have rounded up the cutest pregnant celebrities of the week, including a newly pregnant Sarah Michelle Gellar and a very pregnant Kourtney Kardashian. On a fashion note, Tori Spelling and Kristin Cavallari get our vote for best-dressed baby bumps of the week with their fresh floral prints.
(page 3 of 4)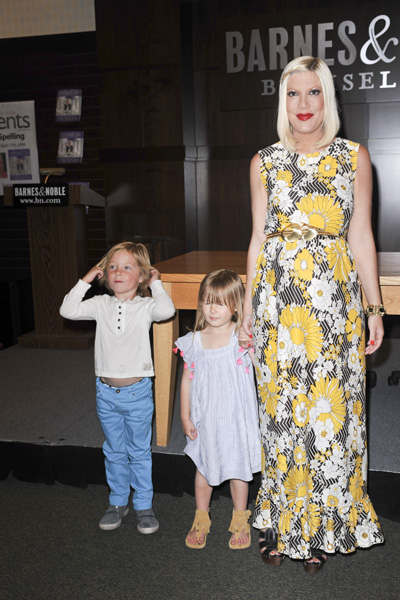 Tori Spelling
Tori Spelling looks fresh in a floral maxi dress as she poses with her children Liam and Stella at the book signing for her new book, CelebraTori, in Los Angeles.
Her husband, Dean McDermott, joked about Tori getting pregnant just five months after giving birth to her daughter Hattie.
"She's just super fertile," he said. "It's so funny how everyone blames the man. It's like, 'Oh my God, will you leave your wife alone?' But it takes two to tango. She wasn't putting up that much of a fight. But I have big shoulders. I'll take it."