Displaying your family tree
When it comes to decorating your home, sometimes the best decor is the displaying of your family. Here are some fun ways to uniquely and creatively show off the generations right on your walls.
"I want something to have meaning on my wall"
When I was in kindergarten, I made my very first family tree. I drew a tree with tons and tons of branches and labeled each branch as a different member of my family. It's not a masterpiece by any stretch of the imagination, but my mother has had it framed in our house since 1983. It's really cool walking by and showing my own sons what I made when I was their age over 25 years ago!
As I've been looking at the bare walls in my own house lately, I've been thinking, "What should I put up?"
I want something to have meaning on my wall.
I want something to teach my kids on my wall.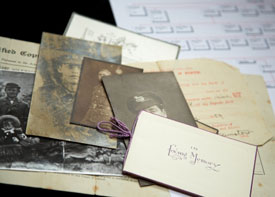 I want something that's a beautiful showpiece on my wall.
I want a family tree. A beautiful McClelland family tree.
I have been scouring the internet for some really cool and unique ways to display a family tree and I have found some really beautiful ways to do it.
So what am I loving this week? I'm loving these five ways to show off your family on your walls!
DIY tree kit
Family Tree from Exposures – This is something that I would LOVE to do with my boys. This family tree project spoke to me because it's something you do with your family. You actually write out family member's names on the leaves and create your own tree. It's not something you just order. I LOVED that about it. Family participation!
Word art tree
Custom Family Tree, Typography Art by Lesley Grace Designs – I've saved my favorite for last! I saw this on Etsy and I just went crazy and ordered one on the spot. I think it's one of the most unique and creative ways to display a family tree. There are no photos, but the typography makes up for that. It's just stunning! A tree made up of names – just perfect.
More on family history
How to make a family tree
Research your family tree
Starting your own family traditions