Magazine Cover Roundup
Some of our favorite celebrity moms, including Mariah Carey, Mariska Hargitay, Elle Macpherson and Jessica Alba, were cover girls this month. We have rounded up our favorite magazine covers with a sneak peek at their interviews, including Mariah talking baby weight loss and Mariska sharing her adoption story.
(page 3 of 4)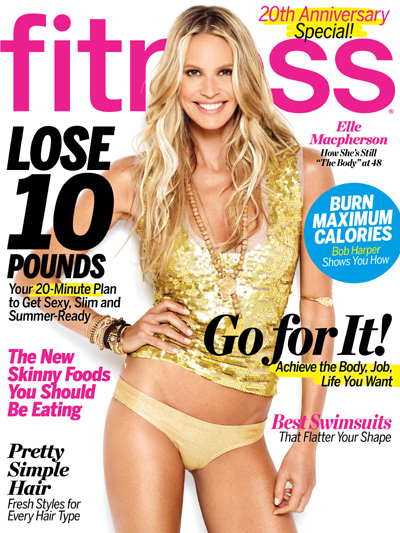 Elle Macpherson
Elle Macpherson proves why she is called "The Body" as she graces the cover of the 20th anniversary Issue of Fitness magazine. The single mom of two boys not only runs two companies (Elle Intimates Lingerie and a line of bath products called The Body), but she is also co-creator/producer/host of The Fashion Star!
"I'm almost 50, so I obviously don't have the same body that I had when I was 20. But I also don't have the same mindset either, when I was wracked with self-consciousness and insecurity," she tells Fitness. "Now I really appreciate my maturity as a woman, my depth of spirit and soul and my understanding of who I am and what's important to me."
So, what is her secret to her fab and ageless body? "I do an hour every day of some kind of physical activity. I mix it up. If I'm in the mountains I ski, if I'm near water I'll swim. I might do a yoga or spin class. I also take my running shoes and iPod with me wherever I go. Running is not only a really effective way to stay fit, it's a sort of moving meditation and a great way to explore new towns when I'm traveling."
For more tips, check out the 20th anniversary issue (this May) of Fitness, on newsstands April 17, 2012.
Photo credit: Fitness