Magazine Cover Roundup
Some of our favorite celebrity moms, including Mariah Carey, Mariska Hargitay, Elle Macpherson and Jessica Alba, were cover girls this month. We have rounded up our favorite magazine covers with a sneak peek at their interviews, including Mariah talking baby weight loss and Mariska sharing her adoption story.
(page 2 of 4)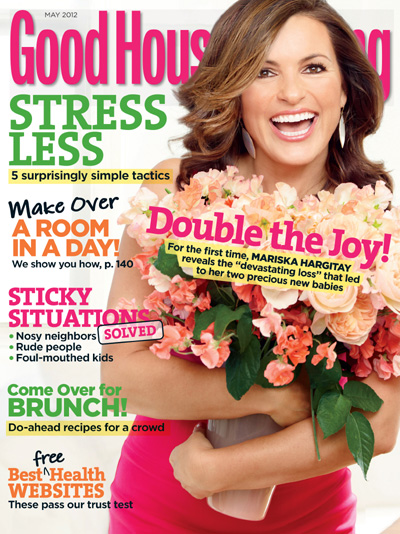 Mariska Hargitay
Law and Order: SVU star Mariska Hargitay is on the May cover of Good Housekeeping and she opened up about the heartbreaking loss that led to the adoption of her two babies.
"Adoption was a bumpy ride—very bumpy," she says. "But, God, was it worth the fight."
Mariska revealed that she and her husband, Peter Hermann, bonded with their newborn "angel" for two days before the birth mother decided she wanted to keep her baby.
"The long and short of it: The birth mother changed her mind," Hargitay says, tearing up. "It was nothing short of devastating. But... this is what I've come to understand about life: It was probably the greatest, happiest ending. I mean, it was so painful for us, but it was deeply joyful and deeply right for her."
Mariska's social worker located another woman who was expecting a baby and she said what happened next was a "storybook." In fact, Mariska was present during the birth. "I basically pulled Amaya out," she says. "Peter and I held her, and then the birth mother and I hugged for a long time. That was profound. That was one of the most meaningful moments I've ever had in my life."
Days later, another child was born two months premature and was adoptable. The couple decided to expand their family even more, adding to their newly adopted child Amaya and their biological son August.
"I don't really know what to say about it, other than it was a no-brainer. Peter and I both thought, 'let's do it! I'm in!'" she says. "It was like… a miracle. And I don't use that word lightly."
Photo credit: Good Housekeeping