Moms Meeting Their Babies For The First Time
For moms whose families were created or expanded through adoption, few things are as emotional as meeting her child for the first time. In honor of Mother's Day, we've gathered special photos of those first moments – a precious few seconds shared between a mom and the newest member of her family.
(page 2 of 17)
Laura, pictured with Molley, who was born in Ethiopia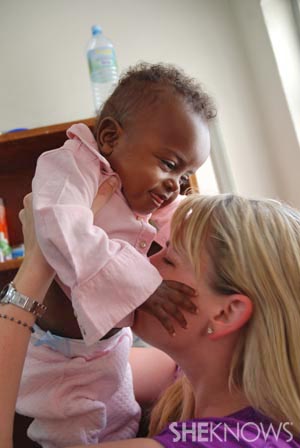 "It's hard to put into words what I felt when I first met Molley. I was so overwhelmed and unprepared. I was already a mom, but it was like doing it all over again – for the first time. I'm not sure what I expected, but I didn't know it would happen so quickly. A driver picked us up from the airport in Ethiopia, took us to our guest house and then all of the sudden, I was in the baby room and a nanny handed Molley to me. She was so much smaller than I thought she'd be – and even more beautiful. She was precious and uncertain. I didn't want her to feel afraid. She looked everywhere but at me, so I blew a raspberry on her tummy. Moll put her sweet little hands on my cheeks and laughed. And then she held onto me and never let go.
It's like she knew – she knew I was her mom then and she was going to make sure I remained so. For six months, she didn't want anyone else to hold her. She didn't want me out of her sight. I promised her I'd always be her mom, but it took her a while to believe me, understandably so.
It has been three years and three weeks since that day and now she knows. She talks about her mom in Ethiopia, too, with such confidence. I'm so proud of her. Molley is secure and self-assured and happy and too smart for my own good. I hope she always knows how grateful I am to be her mom. I love her more than life itself."