Celebrity Baby
Bump Watch
Happy Wednesday Hump Day — also known around here as Celebrity Baby Bump Day! We rounded up our picks of the cutest celebrity baby bumps. Megan Fox is reportedly pregnant with her first child, and we think we can spot a baby bump. Can you? Chris "Thor" Hemsworth was one proud papa at The Avengers' premiere as he posed with his pregnant wife, Elsa Pataky. Also, check out cute celeb moms Vanessa Lachey, Reese Witherspoon and Kourtney Kardashian.
(page 3 of 5)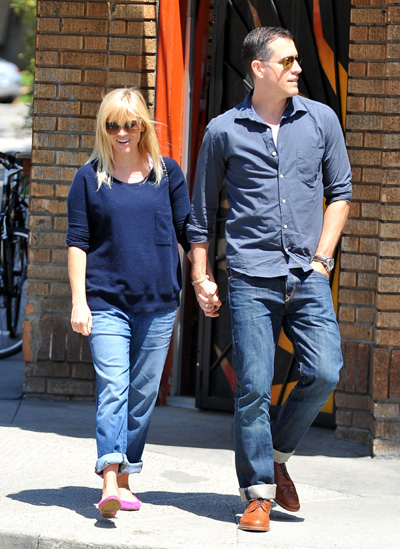 Reese Witherspoon
Reese Witherspoon dressed her baby bump in a casual blue sweater paired with cuffed jeans and pink ballet flats as she and her husband, Jim Toth, left a Santa Monica church last week.
The 36-year-old actress, who is pregnant with her third child, was recently spotted jogging around Brentwood with a friend. Reese was hit by a car last year while out running and had a gash on her head -- so let's hope this mom-to-be stayed on the sidewalks this time!
Next page: Kourtney Kardashian poses with her sisters