Celebrity Baby
Bump Watch
Happy Wednesday Hump Day — also known around here as Celebrity Baby Bump Day! We rounded up our picks of the cutest celebrity baby bumps. Megan Fox is reportedly pregnant with her first child, and we think we can spot a baby bump. Can you? Chris "Thor" Hemsworth was one proud papa at The Avengers' premiere as he posed with his pregnant wife, Elsa Pataky. Also, check out cute celeb moms Vanessa Lachey, Reese Witherspoon and Kourtney Kardashian.
(page 2 of 5)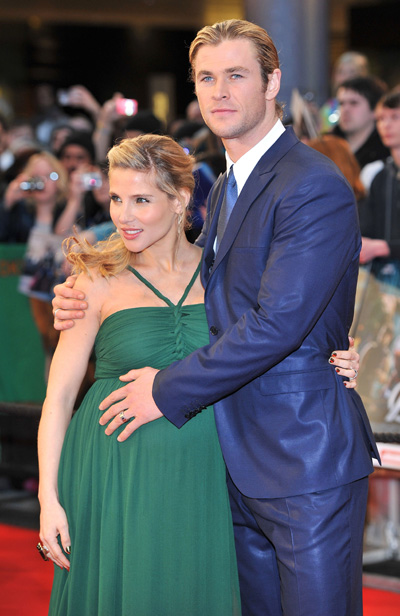 Elsa Pataky
Thor is one proud papa-to-be! Chris Hemsworth, 28, places his hand on his wife's baby bump as they walk the red carpet of the premiere of The Avengers in London on April 19.
His wife, Spanish actress Elsa Pataky, 35, looks gorgeous in a green Hoss Intropia gown. She is expecting her first child this spring.
Chris recently told Out magazine the pregnancy was planned... sort of.
"Er, yes and no," he said. "I have to be elusive about that."
They are also being elusive about the baby's sex. "It's definitely one of them!" Chris told E! News. "It's a secret."
Next page: Reese Witherspoon's growing baby bump