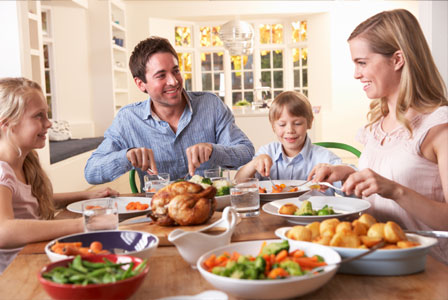 Research points to the importance of sharing meals as a family. Knowing it's important doesn't make it any easier to convene as a family at dinner time. Learn how to let go of the pressure and make family dinner fun.
Connecting at meal time
Depending on what you read, you could end up convinced that family meals can single-handedly rescue your children from a future of bad grades and poor decisions. While eating together seems like a magical solution to all your parenting problems, most parents know it's more complicated than that.
With realistic expectations in mind, learn how to make family dinner fun. Eating together might not solve all of your problems, but it will bring your family closer.
Be reasonable about timing
Sitting down for dinner as a family isn't as simple as it sounds. Over-scheduled kids and busy parents don't always intersect at mealtime. Instead of trying to cram a family meal into every day's schedule, try making plans to eat together three or four times a week. Avoid frequently eating in the car or at restaurants. If you can't get together for a bare minimum amount of meals, it might be time to rethink your evening activities.
More on family time
Practicing gratitude: A little dinner conversation
6 Ways to maximize your family's time together
Help your family reconnect