Keepsake Presents For Sentimental Moms
You'll always be your mom's little girl, and there's nothing more sentimental than homemade Mother's Day gifts, regardless of your age. Whether you enlist the help of your kiddos or craft up a keepsake on your own, discover these 20 homemade gift ideas just in time for Mother's Day.
(page 2 of 2)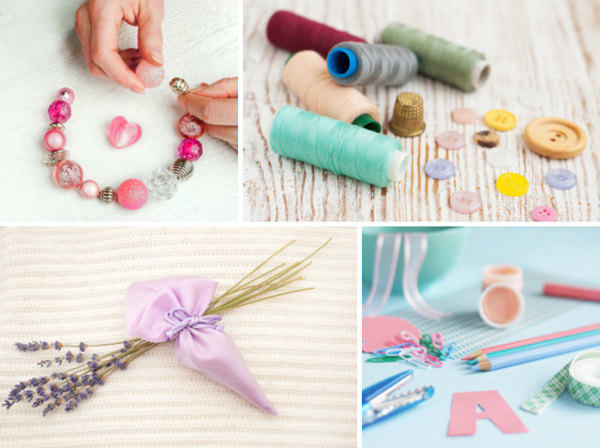 Washable fabric paint gives napkins or tea towels a personalized elegance, especially when decorated with your children's handprints for Mother's Day.
Combine homemade gifts and hobbies into one by presenting Mom with the supplies she needs to craft her favorite project with her grandkids.
Using small squares of fabric sewn together in a little pillow and filled with lavender or her favorite potpourri, fragrant sachets are a homemade Mother's Day gift that is as practical as it is sweet.
Fill a mason jar with needles, notions and spools of thread and top lid with a stuffing-filled square of fabric to hold pins.
Fill a plastic wash bin with gardening tools that moms can use as a portable potting tub while she's soaking up some sunshine.
16
Personalized frame and mat
Turn an ordinary picture frame into a homemade display for Mother's Day memories by embellishing the frame and mat with buttons, lace or sentimental items.
17
Scrapbook or photo album
Turn childhood memories into a keepsake arrangement by creating a scrapbook or photo album personalized with photos and handwritten notations by your kiddos.
Favorite photos, a wood or metal tray and a little Mod Podge goes a long way to preserve memories and present moms with a homemade tray for serving iced tea or holding jewelry on her dresser.
Use iron-ons, fabric paint or fabric markers to help your children brighten up a plain canvas tote especially for Grandma.
Kids love to craft homemade strings of colorful beads to create the perfect bracelets, necklaces and earrings for Mother's Day.
Give the gift of green with these 15 organic Mother's Day gifts for the eco-conscious mama >>
Note
Remember that the package you present your 20 homemade Mother's Day gifts in can be just as special as the gift inside. Use family photos, your children's handprints and remnants of sentimental fabrics from baby clothes or blankets to adorn your gift bag or box to surely bring a tear to your favorite mom's eyes!
Get more Mother's Day Tips
Best types of flowers for Mother's Day
Stylish gifts for Mother's Day
Mother's Day brunch