Homemade Keepsake Mother'S Day Gifts
What are kids supposed to get their moms on Mother's Day? The answer is: Something special, something handmade. There is no greater joy than receiving something your child has made just for you — and there's no greater joy than seeing your child's face when you open their special-made gift. Any mom will love and cherish these creative homemade Mother's Day keepsakes!
Handprint flower canvas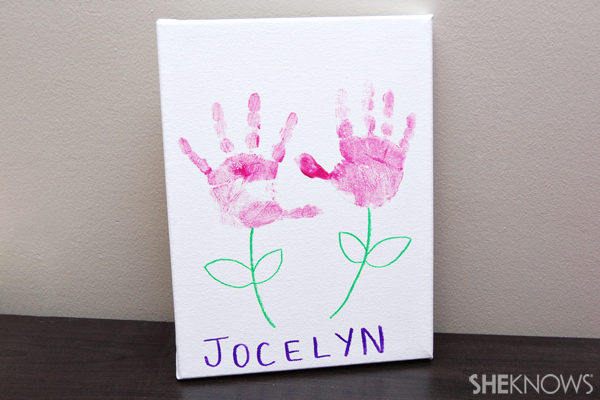 Start this tradition now and show Mom just how fast her babies grow each year! Mom will love hanging these homemade canvas prints — and enjoy looking back at them as her babies get older.
What you'll need:
Washable paint
Markers
White wrapped canvas frame
Paintbrush
What you'll do:
Paint your child's hands with washable paint.
Near the top of the canvas, carefully press each hand on the canvas.
Paint or draw a green stem with leaves coming from each handprint to create the flowers.
Paint or write your children's names and ages below each flower.
Paint or draw the year in one of the corners.
Mother's Day framed letter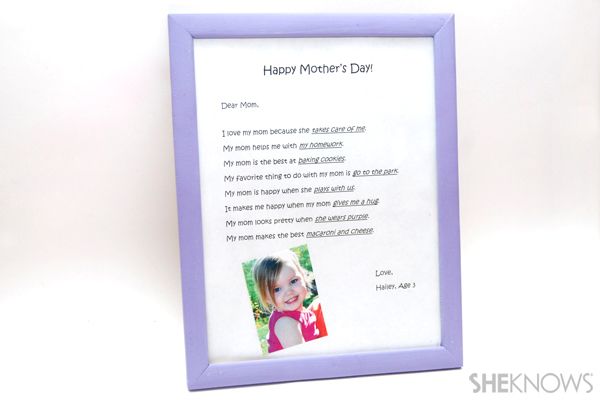 Use this example or come up with one of your own to encourage your children's creativity and capture their feelings for Mom at the same time.
What you'll need:
Paper
Pen
Frame
Picture of your child
Photo glue
Mother's Day letter example:
I love my mom because she _______________.
My mom helps me ____________.
My mom is the best at ______________.
My favorite thing to do with my mom is _______________.
My mom is happy when she _______________.
It makes me happy when my mom ________________.
My mom looks pretty when she ________________.
My mom makes the best _____________.
What you'll do:
For a younger child, read the letter out loud and fill in the blanks for him or her.
For an older child, have your child write in his or her own words to complete the letter.
You can leave the letter in your child's handwriting or older kids can help younger ones type up the poem on the computer before framing it.
Glue the picture of your child to the bottom of the letter.
Include your child's name, age and the date.
Place the finished product in a frame.
Mother's Day pen planter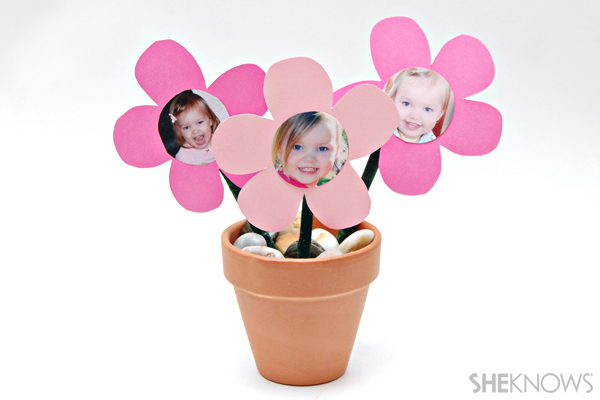 Whether Mom works in an office or from home, this pen planter will make a great addition to her work space and remind her of her beautiful children each time she goes to write a note.
What you'll need:
Small ceramic pot
Small decorative rocks or dried pinto beans
Ballpoint pens
Green ribbon
Cardstock paper
Hot glue gun
Double-sided tape
Scissors
Pencil
Picture of your child
What you'll do:
Take your picture and cut a circle around your child's face.
With double-sided tape, tape the picture on the cardstock paper (leaving a few inches of paper around the picture).
With a pencil, draw a flower around the picture.
With scissors, cut the flower from the cardstock, set aside.
Take any caps off of the ballpoint pens.
Apply a small dot of hot glue at one end of the pen.
Carefully and quickly wrap the end of the green ribbon around the glue.
Continue wrapping the green ribbon (tightly) around and up the pen.
Apply another small dot of hot glue to the other end of the pen.
Wrap the ribbon around the glue, cut off any excess ribbon.
Apply a small dot of hot glue to the back of the cardstock flower and press it tightly against the bottom/side of the pen.
Fill the pot with small rocks or dried beans.
Place the pens in the pot with the flower side up.
Quick tip
If you want to add color or a special message to Mom, you can decoupage or paint the pot. Also keep in mind that only older teens and adults should handle the hot glue gun.
More Mother's Day fun for kids
5 Mother's Day crafts for kids
5 Creative ways to surprise Mom on Mother's Day
How to make a Mother's Day video scrapbook