Tech glitz and glam
As a digital mom, I'm all about discovering tech gadgets that are feminine and for the "girly girl." There are some true beauties out there (pun intended).
I've been working as a digital mom for more than five years. When I first started blogging, the tech gadgets were very "plain" looking. Nothing dazzled. Nothing had pizzazz. Nothing spoke to "her." Let's put it this way: Nothing was pink, sparkly and oozing "femininity." It's not that I required girliness in my tech gadgets, but I thought it would be nice to at least have had some options.
That was then.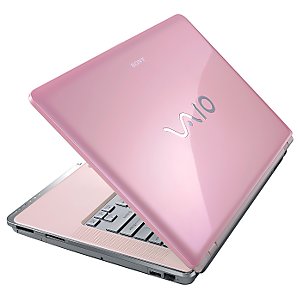 I'm excited to say there are some incredible tech gadgets geared toward women. They get the "tech" job done but also have that feminine look that I think is fabulous. I love when I see companies (especially in the tech gadget world) think of women. We're making purchases just like men are, and I think it's amazing they're shining the light and giving us a little something-something.
I wanted to write this column this week because when I was recently at my local Starbucks using my VAIO pink laptop, I had a girl come up to me and ask where I "found that." The pink color is what attracted her to it. It got me thinking about other tech gadgets I love specifically geared toward "me."
This is what I'm loving this week:
I have to start with the VAIO because it was the inspiration for this column. Why do I love it? It's pink. It's vibrant. It's eye-catching. It screams girl, and I love it. Most laptops are silver or gray, so I love having the option to have a little fun with my home base (aka laptop). It's fun to add a pop of color to something so essential and necessary in your life.
Your husband will never mix up your cameras again with the Casio Exilim Zoom! Oh, yes, another pink item. I'll never forget my mom buying this camera for my sister last year. My sister lit up. It's the perfect camera for a girly girl, and it gets the job done! It's also the perfect size to slip right into your purse. Lots of cameras are going pink.
Blinged out and fabulous! ChicBuds are the perfect earphones to wear when you're listening to your iPod or laptop. They're the coolest-looking buds ever! These earphones are detailed with genuine Swarovski crystals, making them a fashion must-have.
It's the one thing I don't own, but they are so popular. Enjoy your smartphone in a shade of pink. Blackberry is smart to have created and brought pink options to the masses with the Blackberry Curve. I know many ladies who own the Curve, and they love their feminine choice on the color.
My husband owns a Timex Heart Rate Monitor in gray. He doesn't work out without it. This past Christmas, he bought me the one in pink, and I love it. There's something about seeing one catered toward me -- not just wearing a smaller version of his gray one. Bravo, Timex! This targets your heart rate through your workouts, and it's incredible.
More on technology
Best techie Mother's Day gifts
Top 10 worst technology gifts
Gift guide: Tech gifts