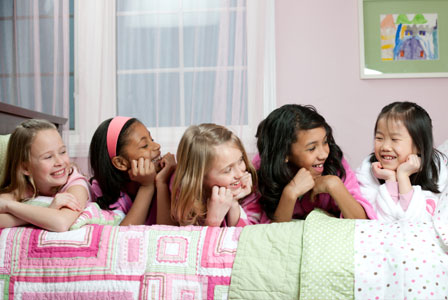 Sleepovers, slumber parties -- whatever you want to call them -- kids love them, and most parents dread them. If your child is planning her first slumber party, follow our survival tips to make it through the night.
Start small
If it's your child's first slumber party, you don't need invite a dozen friends. Keep the party to a reasonable number. Start with three invitees. If you are brave, you can work yourself up to 10 when your daughter is a tween or teen.
Invite kids you know
Do yourself a favor, and scout out the participants wisely. You can get some idea of how a child will behave at a sleepover by watching them on a playdate or other group activity. Don't invite children who you don't know... and it's a good idea to be acquainted with their parents, too. When the kids get dropped off, be sure to get contact info from each parent and ask about possible food allergies or health concerns.
"Make sure they understand they cannot leave the house without your permission."
Be clear about the rules
When you have other kids in your house for the night, they are your responsiblity. You don't need to be a party pooper, but you do need to lay down the ground rules with your child and their guests. Make sure they understand they cannot leave the house without your permission. You might also consider designating certain areas of the house as "off limits" -- like the rooms with white carpets or valuable breakable items.
Walk through often
You don't want to hover over the party the entire time, but you do need to keep an eye on things. Walk through the room often, bringing in more food, beverages, games and movies. Make sure everyone is present and accounted for, and there isn't any arguing or out-of-control mischief going on.
More on sleepovers
Sleepover safety guidelines
How to plan the perfect sleepover
Perfect party games for all ages