Celebrate Mexican Heritage With Your Kids
Can't find a babysitter? No problem! Celebrate Cinco de Mayo with your kids at home this year. These festive crafts, games and meal ideas are fun for the entire family.
Cinco de Mayo crafts for kids
Kids will love creating these simple yet fun Cinco de Mayo crafts.
Maracas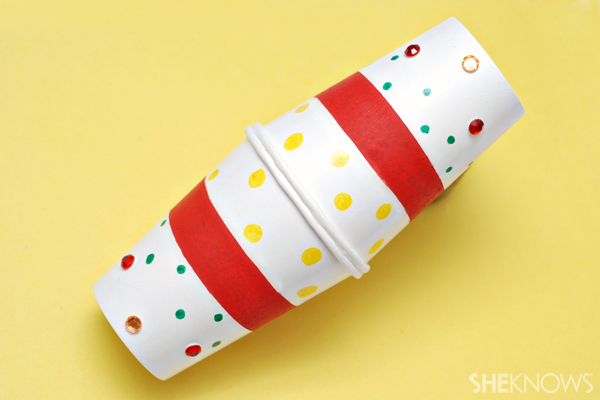 What you'll need:
Two large paper cups
Paintbrush
Red, white and green craft paint
Dried pinto beans
Hot glue gun
What you'll do:
Paint and decorate the outside of each paper cup.
Let dry.
Fill one cup halfway with dried pinto beans.
Apply hot glue to the top edge of the cup.
Place the second cup on the glue to create the maraca.
Let dry.
Caution: Only adults should use the hot glue gun.
Mariachi guitars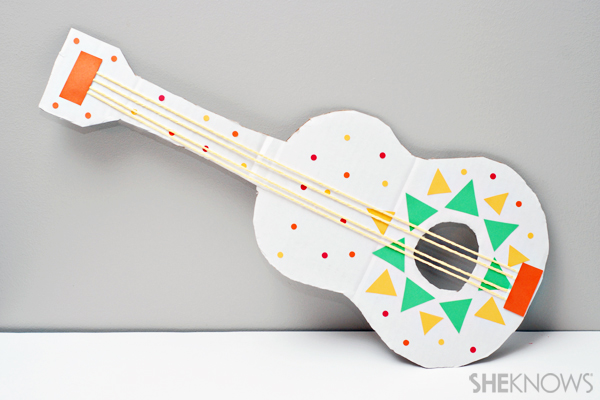 What you'll need:
Cardboard
Pencil
Sharp scissors or X-Acto knife
String
Colored paper
Hot glue gun or craft glue
What you'll do:
Draw a mariachi guitar shape on the cardboard.
Carefully cut out the mariachi guitar with sharp scissors or have an adult use an X-Acto knife.
Cut out colored paper to decorate both sides of the cardboard.
Cut four to five long pieces of string, and glue them to one side of the cardboard to make the guitar strings.
Caution: Only adults should use the hot glue gun and X-Acto knife.
Cinco de Mayo activities for kids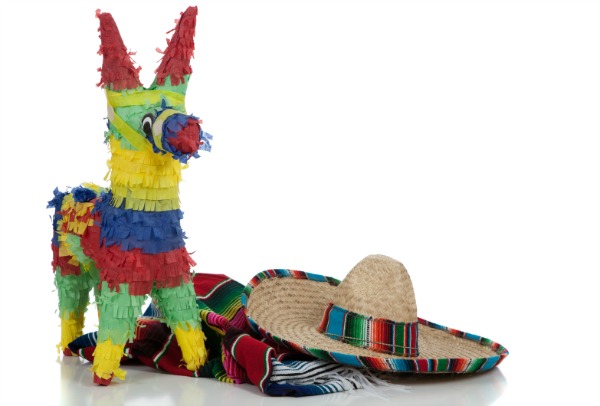 Teach your child Spanish
With the help of music, games or flash cards, you can easily teach your kids how to count to 10 or learn basic colors.
Crack open a piñata
Fill a homemade or store-bought piñata with candy, stickers or other age-appropriate items, and then allow your children to crack it open with a stick or baseball bat, while taking turns.
Tip: Make sure you hang your piñata in a wide-open space with plenty of swinging and running room!
Do a Mexican hat dance
The Mexican hat dance is a cultural tradition — and a fun activity for the whole family!
What you'll need:
What you'll do:
Have everyone stand in a circle holding hands.
Play the music while everyone walks sideways in a clockwise direction.
Call out one person's name.
That person is to come to the center of the circle and dance around the sombrero until the next person's name is called.
When the person in the middle's turn is up, they should rejoin the circle.
Cinco de Mayo food for kids
Serve up some Mexican food that adults and kids alike will love. A taco bar station allows children to get involved with preparing their own meal.
Taco bar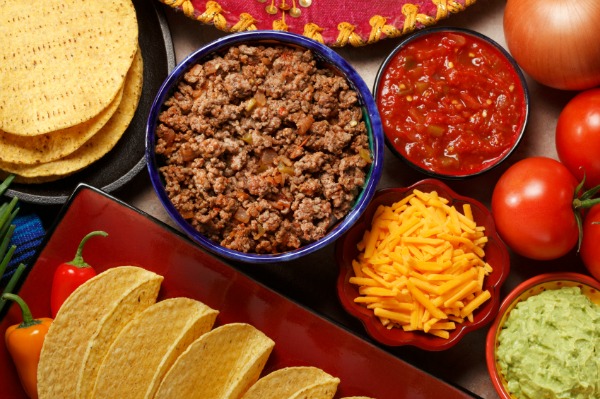 Ingredients:
Refried beans
Black beans
Shredded cheese
Carne asada (or chicken, pork or tofu)
Grilled peppers
Sour cream
Black olives
Shredded lettuce
Corn tortillas
Flour tortillas
Salsa
Chips
Guacamole
Directions:
Heat and prepare the beans, vegetables and meat ahead of time.
Place each item in its own bowl.
Allow your family and children to make their own tacos — taco salad, nachos or on a plate.
Tip: Label each item in English and in Spanish to encourage learning of the Spanish language.
Mexican flag dessert cup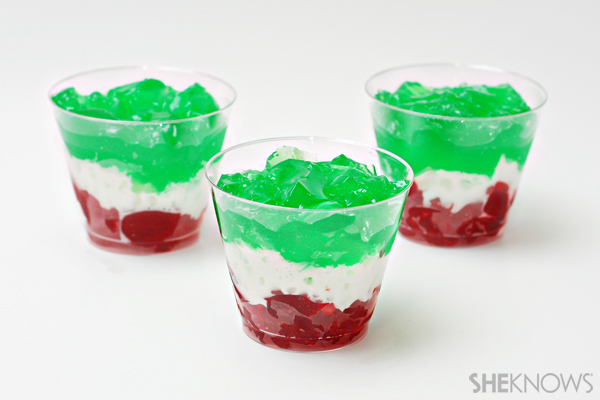 Ingredients:
Instant Jell-O, strawberry or cherry
Instant Jell-O, lime
Whip cream
Clear plastic cups
Small spoons (or large popsicle sticks if you are eating them outside)
Directions:
Make the red and green Jell-O ahead of time or with your children.
Place two to three tablespoons of red Jell-O into the bottom of the clear plastic cup.
Cover the red Jell-O with a thin layer of whip cream.
Place two to three tablespoons of green Jell-O on top.
Serve immediately.
More activities for kids
Making music with your kids
4 Messy outdoor crafts for kids
How to make paper mache