Become Book smart
Looking for some steamy reads for the summer? Lose yourself in these fabulous summer beach reads.
Before I had my sons, I would read every single night for about an hour. My night table always had a stack of books on it, ranging from mystery to romance and from fantasy to family sagas. I loved losing myself in a book before bed. Funny enough -- it always made me sleep better.
I've instilled my love of reading in my sons. Every single night before they go to bed, we reads books. We all pile on my bed or in theirs and read away! I let each boy pick out a book -- so we go through four books every night. They absolutely love it, and I think it makes them sleep better, too. They're relaxed heading to bed, and they're ready for a good night's sleep.
I have to be honest, though: Since becoming a mother, my personal reading time has completely changed.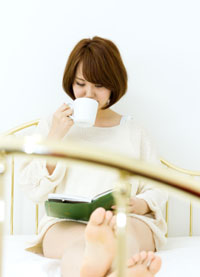 Gone are the days of reading before bed every night. Now, I like to relax on the couch in front of the TV when the boys are in bed (watching reality TV -- horrible, I know!).
But... things have been changing lately, thanks to some really, really, really good, steamy books. I'm all about characters and storylines that draw me in and don't let me go. I want to feel invested in a book, but I also need -- and want -- it to be a quick read. I've been searching high and low for books like these, and I've found them!
For more great book suggestions, check out our Book Lounge >>
What am I loving this week?
Here are five of my summer reads:
Fifty Shades of Grey trilogy
OK, moms, these books are hot to trot, so be ready! You want steamy? You're getting steamy. The reason I'm loving the Fifty Shades of Grey trilogy is because at the core of these books is a love story you can't put down. It's thrilling, sad, twisted and lovely all at the same time. It sucked me in -- and I read the three books (over 1,000 pages on my NOOK) in four days! This is the perfect spring/summer read under the sun -- or under your covers!
The Marriage Bargain
I love a good romantic struggle. You know, something that really pulls at your heart strings. I love that with Jennifer Probst's books, you can literally bang through one book in an afternoon. I was so into Alexa's story in The Marriage Bargain, and I love that about Jennifer's writing. I recommend taking this book with you on a flight or a train ride -- you'll be done in a couple of hours! And don't worry, there is a "happily ever after." I also recommend anything by Jennifer Probst!
More on romantic entertainment
Most romantic movie scenes
How to get him to be more romantic
5 Hot romance books