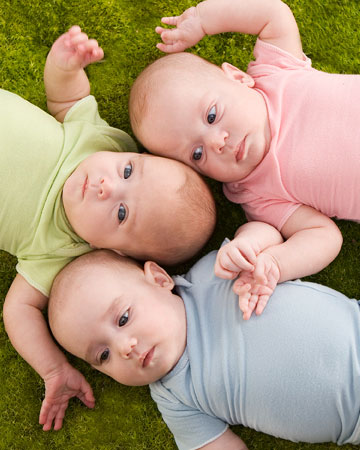 Three Natural fabrics for Baby clothes
If you aren't already buying soy, bamboo and hemp clothes for your children, then you need to know about the benefits of these fantastic natural fabrics. They are not only soft, but also durable, moisture-resistant, great in both hot and cold weather and so much more.
And, buying clothes made of hemp, bamboo or soy doesn't make you a "hippie mom" -- we've also pulled examples of super cool clothes in each fabric that will have you saying, "Wow! That's made of hemp?"
Soy... It's not just for lattes anymore
More than just a substitute for milk in your morning latte, soy is one of the hottest new eco-friendly fibers that's making its way into baby and kids' clothes. Soy clothing is actually made by changing liquid soy into solid soybean fiber, creating a fabric that is soft and has natural UV-resistant qualities. Proof that soy clothing is not just practical, but also cute, babysoy is an entire online retailer that makes full lines of soy clothing for little ones -- from rompers to newborn onesies to super soft blankets.
Who knew bamboo could be so soft?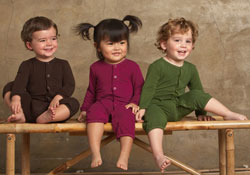 If you have bamboo growing in your yard somewhere, you know it is less than a friendly plant -- in fact, its stems are so sharp they can easily cut you. But, once the bamboo is processed and the cellulose fibers from the bamboo is made into viscose yarn, it becomes as soft as silk. As a fabric for children's clothes, bamboo is becoming the new cotton -- it wicks water away rather than absorbing moisture, which means it holds in less bacteria. And, retailers are using bamboo more and more in clothing for kids. Check out the Bamboo Basics line at Kicky Pants -- a family-owned company that puts the comfort of clothing for little ones first... all while keeping them looking adorable!
No, not that type of hemp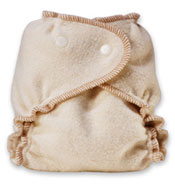 Get your mind out of the gutter! When it comes to all-natural fabrics great for kids' clothing, hemp outshines the rest when it comes to one factor: durability. Clothing that contains hemp is fantastic for kids because it doesn't rip or wear as quickly -- perfect for toddlers who are still crawling around on the floor and kids who seem to rub the knees thin on every single pair of pants they own. Hemp, when combined with cotton, is also a fabric destined for diapers -- besides being incredibly absorbent, hemp is naturally antibacterial so those stains won't stick. Available from Kissaluv, the Kissa's Organic Cotton/Hemp Fitted Diapers get softer with every single wash -- perfect for little sensitive baby bottoms!
Help save the planet with cloth diapers >>
More on clothing for kids
Celebrity moms with clothing lines for kids
5 Online shopping tips for kids' clothing
What do your kids' clothes say about them?