Celebrity Baby
Bump Watch
Happy Wednesday Hump Day -- or Celebrity Baby Bump Day! We rounded up the cutest celebrity baby bumps of the week, including Kourtney Kardashian glowing in a chic coral dress, Reese Witherspoon flaunting her baby bump (finally!), Tori Spelling and Molly Sims.
(page 3 of 4)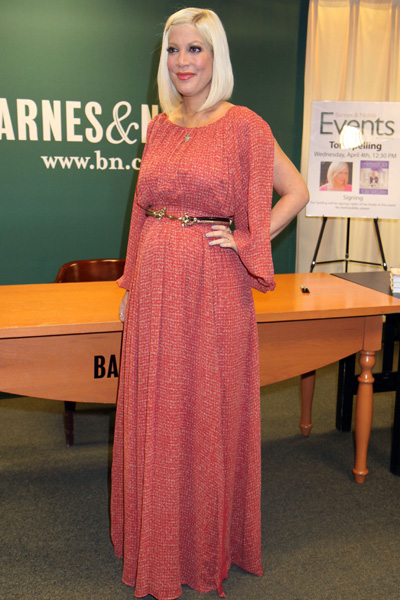 Tori Spelling
Tori Spelling dressed her bump in a chic maxi dress at the signing of her new book, CelebraTORI, at Barnes and Noble in New York City earlier this month. She announced her surprise pregnancy just five months after her third child, Hattie, was born.
"Well, my husband got really lucky that night, and then I got lucky. He's feeling real proud of himself," Spelling said during an interview with Rachael Ray. "He's like a fluffed up chicken. Women walk by and he's like, 'Don't walk too close to me -- I've got the batter.'"
She also admitted that since she has two daughters and one boy, she is hoping she has another boy this time. "We would like a little boy, and Stella… she's now a middle child, and when we told her about the pregnancy she said, 'I hope it's a little boy for Liam,'" she said.