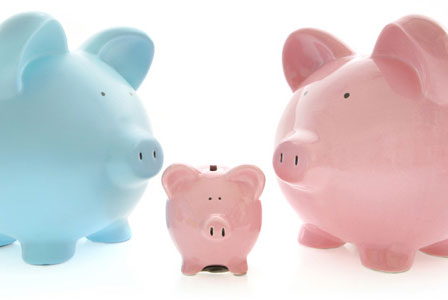 Teaching kids the importance of money choices and the act of saving money are essential parts of learning and growing.
Tools and tricks to help kids save
The values and responsibility parents instill in their children -- even at an early age -- can help form their view of money and how to control their impulses, both financially and in other aspects of life.
How to introduce money to your child
It's never too early to introduce the topic of money to your child, especially if you approach the process by leading through example. Use family dinnertime to talk about the importance of money and explain your daily actions to your child -- just make sure it's age-appropriate.
Easy ways to introduce money to kids
Take your child to the bank and explain what a deposit and withdrawal is -- and how the money gets there in the first place.
Explain why you save money.
Limit spontaneous family vacations and teach the importance of saving for larger vacations or larger purchases.
Purchase a money-saving tool that allows your child to make his own money choices along with short-term and long-term goals.
Tips for teaching kids about money
Teach your child about money choices
Show your child there are many choices when it comes to money -- like saving, investing and donating, in addition to spending -- and all of the options are healthy choices to explore. One tool that allows natural curiosity of money choices is the Money Savvy Pig, a four-compartment piggy bank that gives children built-in options and visual reminders when it comes to money choices.
Set short-term and long-term goals
Ask your child what goals he has for the immediate future and what goals he has for the next year and beyond. Look through catalogs together, bring a notepad along the next time you go shopping together and allow your child to write down the cost of items, add them up and create specific goals to work toward.
Tip: Open a savings account for your child and make weekly or monthly trips to the bank to deposit money.
Pay yourself first/create a savings
Explain to your child how to save a small portion from the money he earns. This strategy is an automatic way to create healthy saving habits or "pay yourself."
Give an allowance
According to Money Savvy Generation, a good age to start an allowance is 7 or 8. An allowance can be used as a gateway to budgeting and money management, and it provides a child with the necessary tools to learn about savings and cause and effect.
Allowance tips
Lead by example
Children look up to their parents and often model their parents' behaviors and choices. Show them how you save, invest, donate and spend money wisely.
Source: Money Savvy Generation
More on kids and money
How to teach kids about saving money and budgets
How kids can make money
How an allowance teaches kids about money