Celebrity Baby
Bump Watch
Happy Wednesday Hump Day -- also known as Celebrity Baby Bump Day! We rounded up the cutest pregnant celebrities of the week. Uma Thurman's baby bump has grown overnight! The actress showed off her pregnancy curves in a cute bathing suit while on vacation. We caught Sienna Miller having lunch -- and she is really starting to show! Also check out pregnant celebrities Kristin Cavallari, Molly Sims and Vanessa Lachey.
(page 4 of 5)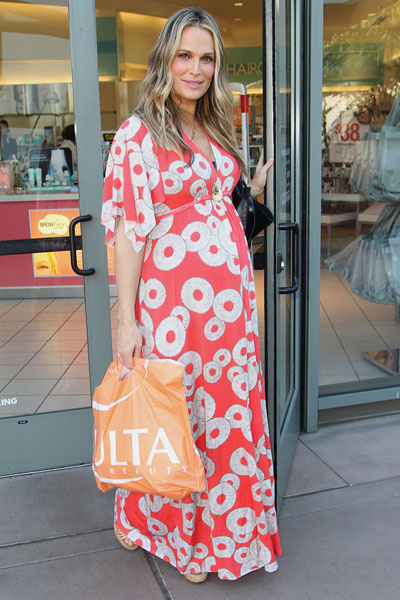 Molly Sims
Molly Sims shows off her baby bump in a gorgeous printed coral maxi dress as she leaves Ulta during their "21 Days of Beauty" celebration.
Sims revealed Tuesday during her appearance on The View that she is having a baby boy!
"I'm going to make a little announcement. Everyone has asked me," Sims said. "The only reason why I'm telling this is because we can't make a decision on the nursery. We are having a baby boy! I know [my husband Scott Stuber] would have been so excited with a girl but he is such a sports freak -- he is so happy."
Photo: Michael Simon