Lights, camera, action!
Learning to feel comfortable on camera as a mom vlogger is an important skill to master. Here are five ways to get yourself ready and in front of the camera.
When I was in middle school, high school and college, my dream was to be a broadcast journalist. I wanted to be on camera and deliver the news. After I graduated from college, I moved to NYC and couldn't find a job in TV that would pay me enough to cover my rent, food and transportation, so I took a job in the fashion industry (another one of my loves). I worked in fashion for six years and only left after I had my first son and was pregnant with my second. I knew living in NYC wasn't the best option for me and growing family.
We moved to Rhode Island, and I became a mom blogger.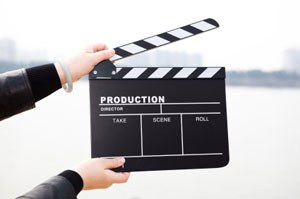 Immediately after jumping into the mom blogging waters, I knew I wanted to bring video into my blog posts. It's fun to write about motherhood, but I also thought it had to be fun to talk about it, too -- on camera! What better way to show the real side of motherhood, right? My first video was "How to change a diaper blindfolded." Considering I had four sons in diapers at the same time, I knew I could do it. My next video was doing a toy review for Tonka. I was hooked! I loved being on camera as "me" -- as a real mom expressing herself.
Video changed my mom blogging because it showed a different side of me: One away from just words on a page. I highly recommend moms give video blogging a chance. I know it can be daunting, but with my tips and advice on how to get yourself comfortable and ready on camera, take the leap!
When I first started, I had to shoot my first video about 20 times! No joke. I was nervous as can be. My advice to calm the nerves is to practice beforehand. Practice what you want to say. Practice how you to sound. Practice breathing. Practice! Practice! Practice!
One way to feel comfortable off the bat is to feel comfortable in your surroundings. I had my sons in my first videos because they calmed me down. I knew I had to be "mom" with the camera on and off, and it really allowed me to feel comfortable in my surroundings. They were perfect distractions for me!
Sometimes, it's better when you actually write out exactly what you want to say and post it on your computer or write it on poster board to hang. It's like having your own personal teleprompter. It's comforting to have your notes and your script on hand and be able to draw from them.
The most common thing I get from moms after their first video is, "I hate how I look on camera!" My advice to every mom out there: When you're about to go on camera, apply lots of makeup (way more than usual) and make sure you love your hair. If you feel like you look good, you will automatically feel relaxed and comfortable.
Make sure your videos are short and sweet -- nothing too long. I always give the advice of never going more than three minutes because people (literally) just tune out. I advise doing a quick introduction, hit your points and then wrap up!
More on shooting videos
Advice on shooting video with your point and shoot camera
Why you should be on YouTube
Hottest gadgets of 2012