Doctors saved my baby and my life
While visiting her dad in the Czech Republic in spring 2008, Jana Hartmanova found a lump on her breast. The next day, her doctor said it was probably nothing but did a biopsy anyway, because of her family history of ovarian cancer. She was 12 weeks pregnant.
"My mom story"
by Jana Hartmanova
as told to Julie Weingarden Dubin
On April 10 -- the date my mom died 10 years earlier -- I got the phone call I had breast cancer. I was 14 weeks pregnant. I cried in shock -- I was only 26. What would happen to my baby? I knew this was my last pregnancy, and I wanted to make sure my 2-year-old Ben had a sibling, but I also wanted to make sure that I'd be around for Ben as long as possible.
I called my husband back in Iowa City, Iowa. I couldn't talk. I just cried into the phone. It was 2 a.m. his time, and he told me to fly home, and we'd figure everything out. Danny is a certified registered nurse anesthetist (CRNA) and wanted me to see doctors at his hospital.
Two days later, I was home and started receiving care at the University of Iowa Hospitals and Clinics (UIHC). My doctor told me he could treat me while I was pregnant. Danny was my rock. He took a month off work when I was first diagnosed to help me. My whole family is in Czech, and we were new to Iowa and didn't know many people.
After the initial shock, I educated myself about breast cancer as much as I could. I tried to remain positive. All I could think about was Ben. I needed to get through this because my little boy needed me to take care of him.
Treatment plan
A team of top specialists at UIHC devised my long-term care. As soon as I met one of my surgeons, I felt everything would be OK.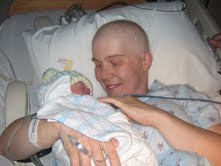 I had several surgeries, starting with a lumpectomy, after which I was diagnosed with stage 3 breast cancer. I had a four-centimeter tumor, and they took out 19 lymph nodes, of which 12 came back positive for cancer. I had genetic testing that revealed a mutation in the BRCA1 gene, which made me highly susceptible to both breast and ovarian cancer.
I had four rounds of chemotherapy while I was pregnant. I didn't feel sick from the chemo -- just tired. However, I still had to get up every morning because there was no one else to take care of Ben. I told my doctor the chemo wasn't working because I didn't feel sick. He said, "Look in the mirror: You're bald -- it's working!"
I was induced at 35 weeks because my doctor wanted the baby out as soon as possible. Brian was born with a full head of dark hair, which was great because that's how we knew the chemo didn't cross the placenta. It was a huge relief seeing my beautiful, healthy baby and holding him in my arms. He was able to come home with me a couple days later.
Let's play
After Brian was born, I had more chemotherapy, a double mastectomy, my ovaries removed and 36 rounds of radiation. I felt optimistic but what really pushed me through was my 2-year-old. Ben didn't know what cancer was. He knew Mommy had a boo-boo, and that's why I had to go to the hospital. After every round of chemo he'd ask, "Do you feel better now?" I'd nod, and he'd say, "Great, let's go play!"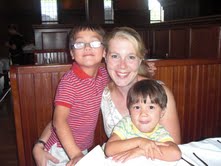 I underwent breast reconstruction a year later. My treatment took 15 months. I went back to living a normal life as a stay-at-home mom, and my regular checkups show no signs of cancer.
Having cancer showed me nothing is certain in life, and I've learned to enjoy every day. I'm hoping to go back to school in the near future, and I plan on being here long enough to see my boys grow up, graduate, get married and have their own families. My boys gave me the strength to fight for my life, and I'll keep fighting.
Mom wisdom
Focus on your children and your family. Don't worry about things you can't change -- concentrate on things you can influence. Believe there is light at the end of the tunnel.
More on breast cancer
The importance of early detection
How to prepare for breast cancer surgery
10 Awesome retailers that support breast cancer awareness