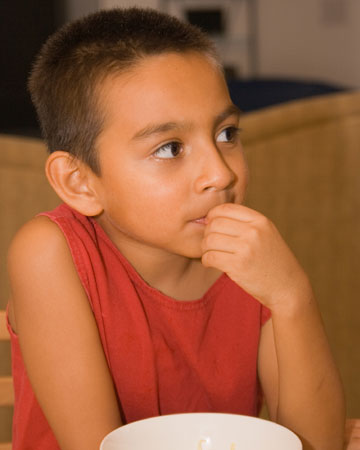 When it's more than picky eating
If your child has been diagnosed with Sensory Processing Disorder or is being seen by a nutritionist for picky eating or poor growth patterns, ask your child's therapist, nutritionist or physician about the possible need and benefits of food therapy and how it can help your child.
What is food therapy?
Food therapy, similar to what occupational therapy or physical therapy achieves, helps children with feeding difficulties due to sensory integration issues, autism, behavioral problems and other unresolved or undiagnosed needs. It's not unusual for food therapy to be included in your child's occupational therapy services.
Children who need or could benefit from food therapy usually have one or more of the following delays with development and/or feeding:
Autism
Sensory Processing Disorder
Refusal of foods
Limited intake of foods
Developmental delays with feeding
Sensitivities with food textures
Dysphagia
Swallowing phobias
Oral motor delays
Mealtime difficulties and tantrums
Determining the need for food therapy
Evaluations for food therapy
To determine whether your child needs food therapy, your child's physician or therapist might suggest some or all of the following:
Further evaluation through therapy or otherwise
Swallow study
Observation with foods
Parent input or a list of foods your child will and will not eat — including how your child reacts to looking at certain foods
Mealtime behaviors
Input from other therapists working with your child
Food therapy needs are typically determined once a child has been diagnosed with Sensory Processing Disorder. If the child has difficulties with texture, taste, smell, temperature or taste — in any combination — feeding issues may become apparent or worsen as the child gets older and/or is exposed to new foods. Feeding difficulties are often the first sign a child has Sensory Processing Disorder because the process of eating requires the use of multiple senses working together.
You may notice your child's nutrition and feeding habits are a cause for concern at a very early age. This could prompt the need for further evaluation in speech and language therapy and/or occupational therapy for sensory integration. Early intervention for any therapy services is ideal, so if you have concerns, talk with your child's physician or get a second opinion if you feel like your concerns are not being heard.
You may also learn through the process of speech and language therapy and/or occupational therapy that your child needs additional support in the form of food therapy.
Food therapy in occupational therapy
Most food therapy occurs during occupational therapy as a part of the therapy process for Sensory Processing Disorder. It can also be done in a rehabilitation center, nutritionist office or in a hospital or doctor's office.
Through occupational therapy, your child's therapist will be able to determine the trigger senses and will gather more information by asking you about your child's likes and dislikes at home. Your therapist may then ask you to bring one or two things your child will eat and one or two things your child will not eat to each therapy session. From there, the therapist will work through specific steps with your child, with the goal of getting your child to try the foods on his or her own terms and without force.
Some of the steps in food therapy include:
Don't be surprised if the therapist encourages your child to spit food out or allows your child to wash his or her hands multiple times during food therapy.
Addressing the need for food therapy
Addressing your child's feeding problems early only benefits your child's future food associations, behaviors and physical growth. With early intervention, you can prevent or eliminate:
Growth concerns (including failure to thrive)
Unsafe swallowing
Poor eating habits
Negative behaviors at mealtime
More on occupational therapy for children
Sensory Processing Disorder help: What is a sensory diet?
ADHD improves with sensory intervention
Parenting and autism: Miriam's story