Glam your kids up!
Spring accessories aren't trendy just for the ladies -- they're also trendy for the little ladies, too! Here are some of spring's hottest accessories for girls.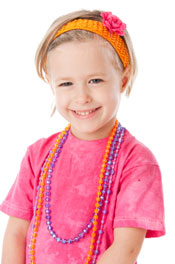 I'm all about accessories. I have more than 20 scarves in various sizes and colors, dozens of necklaces, earrings and bracelets. I even have about five hats I circulate through. Accessories are like icing on a cake -- the best part!
Since I'm a mom of all boys, I rely on my nieces (10 and 11 years old) for my girly girl fix. I shop with them for hours and lose track of time. Believe me, as a mom to boys, it's fun to shop with a girl who enjoys a good shopping trip. We went out on an auntie shopping excursion last weekend, and I had a blast showing them how to incorporate some accessories into their spring wardrobes. I couldn't get over the incredible trends and styles right now for little girls in the accessory department.
Accessories are fun because it doesn't matter how old you are, what size you are or what shape you are -- anyone can pull off an accessory. For young girls, this is an important message for them to know and embrace.
So what am I loving this week? Oh, ladies! Get ready to check out fabulous accessories for the little ladies in your life!
1
Glitter hair clips and bows
Glitter is everywhere right now, and I have to admit, I love it. It's the hottest on hair accessories for girls. It adds sparkle and shine to hair accessories that is so girly, adorable and fabulously chic. When I spotted the glitter hair clips and bows this past weekend, my nieces went crazy. I'm so in love!
Also known as "sailor bracelets," I love that these are back! I wore rope bracelets when I was younger, and I thought it was the coolest thing in the world. Well, now your little lady can wear them, too. Rope bracelets are very New England based but are really making a splash in the world of accessories. I'm loving this trend.
Talk about a new way to bedazzle! Jeweled sunglasses are very trendy right now for girls. I love the girliness about them. They're super cute and super fun. When you see a pair, you just smile. This summer, these will be everywhere!
If your daughter loves a headband, she's going to love this trend: A simple headband with a fabulous statement piece of a flower. These are the ultimate girly girl headbands that are so adorable. If I had a daughter, she'd be wearing these all spring and summer long.
I love a necklace on a little girl. It's absolutely adorable. I'm loving beaded necklaces dangled on ribbon. It's such a classic, cute look and is so precious. If you have family events, special occasions or weddings this summer, this is the perfect accessory for your little girl.
More on style for kids
Accessory trends for girls
Are designer clothes for kids a do or don't?
5 Denim trends for kids