How having my son saved my life
Cristy May Dickinson, 35, of Milton, Ontario, remembers overhearing two women talking trash about a pregnant teen: that the girl was irresponsible, unmotivated and sure to ruin her life. They could have been talking about her years ago, and she wanted to tell them not to judge because having a child young actually gave her life direction.
"My mom story"
by Cristy May Dickinson
as told to Julie Weingarden Dubin
I raise three kids with my partner, Victor: my son Austen, 14; stepson, Devin, 5; and daughter Cydney, 2. I also own an Internet business. I feel fortunate and fulfilled, but my path to get here was jagged and unplanned.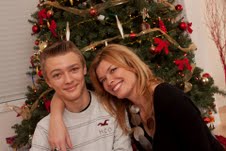 When I was 19, living a carefree life and hanging out with my friends in high school, I learned I was pregnant. My world came to a standstill. I remember choking back tears and feeling devastated, confused and lost.
Both my son's father (whom I stopped dating before I learned I was pregnant) and my friends were pressuring me to have an abortion. They told me having a baby would rip my world apart and ruin my life. But I couldn't do it. I didn't want to do it. I loved my baby.
The choice
When I made my choice, I felt isolated and alone. My friends broke my heart and destroyed whatever relationship we might have had in the future.
Thankfully, I had my mom's support -- and nothing else mattered. I loved my baby and couldn't wait to meet him.
Having a child young made me a more appreciative parent. It's difficult raising a baby alone at such a vulnerable time in your life. I dropped out of high school, and I regretfully never returned. I had to work, and daycare was expensive.
Finding support
I felt people were judging me everywhere I went. I even wore a "pretend" wedding ring on my finger just to avoid the snarky looks and comments.
By the time Austen was 7, we lived in a beautiful apartment, and I had a great corporate job. Austen's father came into his life when he was 7, and now he's a wonderful father.
When I had Austen, I didn't have any friends my age with babies, and I was lonely and slipped into what I later learned was postpartum depression. After I had my daughter in October 2009, I vowed not to let this happen to me again.
I connected with so many great moms at my local community center and decided to create a place to bring parents together online. I started Cupcake Mommies, an online social website for parents.
Austen's influence
Today, I can't help but feel I owe everything to my son. I truly don't know where I'd be today without my amazing, smart and compassionate son. In fact, I'd be scared to see where I'd be.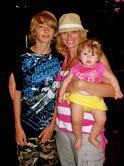 Austen's so good with the younger kids and helps out around the house. I relate to Austen because we're so close in age, and I certainly don't mind being mistaken for his older sister.
Getting pregnant at 19 was the best thing that ever happened to me. Before I got pregnant, I was on the road to nowhere. But you clean up your act fast when you have a helpless child to take care of. Austen didn't destroy my life -- he enhanced it. He gave me purpose and made me want to be a better person.
Mom Wisdom
Get support -- it's out there for you. Call a girlfriend for advice. Meet other moms, even if you connect online. Believe that things will get better.
Do you know a mother with a great story? We're looking for Mom Stories. Email Jrosewriter@gmail.com with your suggestions.
More on being a young first-time parent
Jamie Lynn Spears: From teen mom to country star
How to tell the family your teen is pregnant
What I would say to myself as a first-time mother