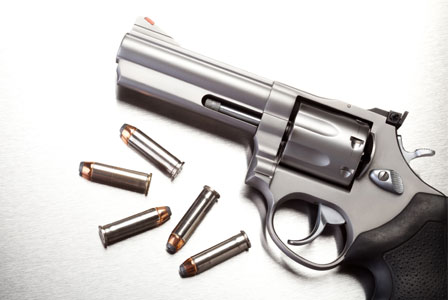 If you keep guns in the home, you need to have a plan on how to keep them safe -- and you also need to teach your children how to treat guns with the respect they deserve.
Educate them early
Get some tips on gun storage and even how to bring your children out with you to the shooting range.

Statistics show 50 percent of U.S. households own at least one gun, so even if your family does not have a firearm, it's likely at some point your child will be in a home that has one. Education starts with you, and learning about gun safety is a very important lesson to teach your child at an early age.
Don't touch
The National Rifle Association has an education program (Eddie Eagle GunSafe Program) for youngsters that helps parents teach important safety rules. An easy one for you to implement at home: Stop, don't touch, leave the area and tell an adult if they find a gun.
If you don't own a gun, look up photos of various guns online to show your child. Explain what a gun does, what it is commonly used for and how you must only use one if you've been trained to do so.
Many toy guns look similar to real guns, so be sure to tell your child if she's not sure: Stay away anyway and tell an adult.
Gun storage
If you have firearms in the home, you must take care to keep them stored out of reach of children. Purchase a gun safe or locked case -- not a display case with a panel made of glass. You might also consider a lock for the gun itself, such as one that prevents the trigger from being pulled. Many local communities have laws requiring a gun lock be purchased along with a handgun sale.
Take care to not store guns when they are loaded, as well. Keep ammunition locked up separate from your firearms, and if your guns are used for recreation, such as hunting or range shooting, don't load them until you arrive at your destination.
Training
In addition to the NRA's Eddie Eagle program, a variety of courses are available for children and adults. For starters, check with your state's Department of Conservation for hunter safety courses. Many require a hunter education course before a license is issued, but the courses are recommended by many organizations even if they are not legally required. In addition to firearm safety while hunting, they also teach how to safely clean and store your gun at home, as well as local laws and wildlife codes.
In addition to helping your child learn about gun safety, you must also be firmly in control of your own gun and know how to properly load, unload and clean it.
Bring them along
"Keep up a steady dialogue with them, sharing what you are doing, where they will be standing and how careful you must be."
Take your kids with you when you go to target practice. Invest in noise-muffling ear protection for them, as well for as yourself. Keep up a steady dialogue with them, sharing what you are doing, where they will be standing and how careful you must be. Kids can also be brought along on a hunt with ample preparation. Outfit them in the same way you outfit yourself and stress safety at every available moment.
With these safety tips in mind, you have a chance to help your child respect guns from an early age and will increase his chances of staying safe even if he encounters a gun at a friend or family member's home.
More on kids and safety
Sleepover safety guidelines
Digital parenting: How to keep kids safe online
Keeping kids safe in the kitchen