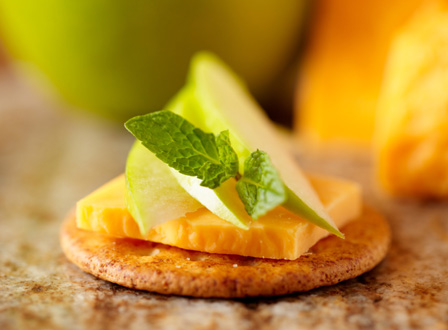 Sometimes it's almost impossible to wait for dinner. When those times arrive, nothing sounds better than an appetizer – especially one made with cheese! These appetizers are all easy to make, taste delicious and contain everyone's favorite ingredient.
Cheese appetizers
you'll love
Cheese, crackers and fruit
Stave off those hunger pains with simple cheese and crackers. Add a fun and tasty twist to that treat by topping it with your favorite fruits, such as strawberries, apples, raspberries and blueberries. No fancy cheeses in your fridge? No problem! Cut up a slice of Kraft Singles to fit your crackers and you're good to go!
Mini grilled cheese
You'll be pretty hard-pressed to find anyone who doesn't love grilled cheese. Make that classic sandwich into a fancier appetizer by cutting off the crust and slicing it into smaller squares before you grill. Add ham and tomato for a really yummy treat.
Cheesy salsa dip
Place a small block of Velveeta cheese in a medium saucepan over low heat. Add a jar of your favorite salsa and a half-pound of crumbled, cooked sausage. Continue stirring until the cheese is completely melted and serve with tortilla chips or crackers.
Quick tip: Want some simple nachos in a hurry? Spread tortilla chips on a plate and cover with Kraft Singles, torn into smaller pieces. Microwave until cheese is melted for a fast and tasty snack.
Tex-mex cheese dip
Mix two 8-ounce blocks of softened cream cheese with one packet of ranch seasoning mix. Add a chopped red pepper, two chopped and seeded jalapenos, one drained can of corn and a small can of diced black olives. Spread the mixture in a pie plate and refrigerate it for at least four hours before serving. Serve with crackers.
Mini pigs in a blanket
Open a can of crescent rolls and carefully roll out the dough. Separate each crescent roll, then cut each triangular piece of dough in half, creating two triangles from each crescent roll. Cut slices of Kraft Singles in half and lay a piece of cheese on each piece of dough, followed by a cocktail wiener. Roll up the crescent rolls so that the cocktail wieners are completely covered, then bake at 350 degrees F for 10 minutes or until rolls are golden brown.