Difficult questions
When you and your spouse are struggling with secondary infertility, it can be tough to find answers to your own questions. But when your children begin asking questions you simply don't have the answers to, things can get even more difficult.
As I reached across the table to dip my chip into the salsa, my daughter's question came from nowhere and sliced right through me.
"Mommy, I want another baby. When are we going to have one?"
In that moment, there in the middle of the busy restaurant, I was truly leveled. I sat -- paralyzed for what felt like forever -- looking at my husband through tears and waiting to regain my composure.
Struggles with secondary infertility
My secondary infertility has become so much a part of who I am I'm not often caught off guard when faced with questions.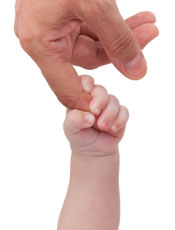 But her words hung in the air as I struggled to find the answer.
"Very soon we hope, sweet girl. Mommy and Daddy are trying so very hard."
But, I wonder what that means to our almost 5-year-old girl.
We've been honest with her from the start of this journey. Before we even began trying for another baby, we asked her if she might like to have another brother or maybe even a sister. Given how she feels about her brother, we weren't surprised when she was thrilled at the idea.
That was 18 cycles ago. She was just 3 then.
Optimism
"She has remained patient and optimistic even when I have nearly given up hope."
She has remained patient and optimistic even when I have nearly given up hope. But, I have to wonder if she's beginning to doubt another baby will come.
Today, I had yet another insemination.
When I returned home, I opened the door, and my daughter ran to me and climbed into my lap with such joy it was as though I had been gone for a week and not just a few hours.
She snuggled into me and asked about the appointment. What was the doctor's name? Did he take my temperature? Did he give me a shot? Did I have to lay down on the table? These are the same questions she asks me every cycle.
Each month, she ends her questioning with, "Are we going to have a baby now?"
But today, she didn't ask. She burrowed her head into my shoulder and just held onto me.
How many times can you tell a child you're trying -- that you are doing everything possible -- before they finally stop believing?
Are we there yet?
And if we are, it crushes me to think I was the one who introduced the reality that not all dreams come true.
Tell us
Have you struggled with secondary infertility? Have you discussed it with your children?
More on infertility
Infertility myths
Infertility -- the topic no one is talking about
Trying to conceive: Conversations you should have with your doctor