FIND the perfect gift
FOR ANY OCCASION
Looking for the perfect gift can be challenging, especially if you don't have much time on your hands. Here are some of my favorite places online for thoughtful, special and fabulous gifts.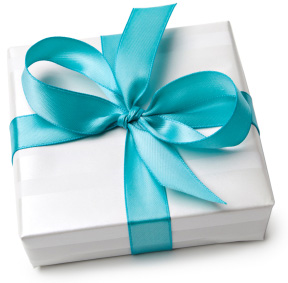 I'm one of those people who loves to give gifts. I mean, loves to give them. If I can find a reason to send a gift to someone, I do -- always. My mother was that way throughout my childhood with our family and friends, and I always could tell how special she made people feel with the gesture. I guess you can say I've inherited my gift-giving from my mother!
Since I'm crazy about giving gifts, I absolutely love scouring websites that offer unique, meaningful and thoughtful gifts. I love a gift that has a meaning behind it. There's nothing more special than finding that perfect gift for someone that just "screams" their name. You know what I mean, right? It's almost as if the gift was tailor-made for that person only. For me, that's the true treasure and beauty!
I want to share five sites I go ga-ga for when it comes to finding and giving that perfect gift!
I'm borderline obsessed! Ticlr allows you to easily create, personalize and deliver unique non-material gifts to the ones you love. It could be delivering an hour of your time, a romantic dinner for your husband, doing a week's worth of laundry for your mom, two hours of babysitting for your sister -- anything! This site makes gift-giving joyful and truly meaningful, which I adore and love.
I love the gifts at Hawthorne & Wren because they are memorable gifts that symbolize expressions of support, healing and comfort. What I love is every product has a caption under it explaining the meaning behind it, which is also added to the card -- I just love that added touch. It really makes it that much more special for the receiver.
Give this gift all year long! I have girlfriends who don't have time to get anything beauty-related for themselves because they're so busy. Birch Box is a mystery box that comes to your door once a month, filled with fabulous beauty samples. How amazing is that? Imagine receiving this! Happiness all the way.
Creative gifts are awesome. It's funny, when it comes to finding the perfect gift for the men in my life (husband, father-in-law, friends) I always turn to Uncommon Goods. They're my perfect go-to, and I can always find the best treasure for someone. Creative ideas and ultra-unique -- can't go wrong!
I just did this for one of my best mom friends. If you know someone who is obsessed with shoes, this is the perfect place to go. You join the site (it's easy and free to do), then choose your friend's style (modern, boho, sexy, etc.) and then Sole Society chooses shoe styles for you to choose from. It's so much fun! All shoes are $50, plus free shipping. Let's face it, you can't go wrong with shoes as a gift!
More on gift-giving
Top 10 Housewarming gifts
10 Gifts that give back
Last-minute gift ideas for your man