Dads' Stories Are On Their Skin
Dads are so important in our lives and the lives of our children. If the sight of a tattooed man with his child makes your heart leap, do we have a collection for you! We found some of the coolest, most interesting and heartwarming pictures of tattooed dads and their kids — and the stories to go along with them.
(page 9 of 20)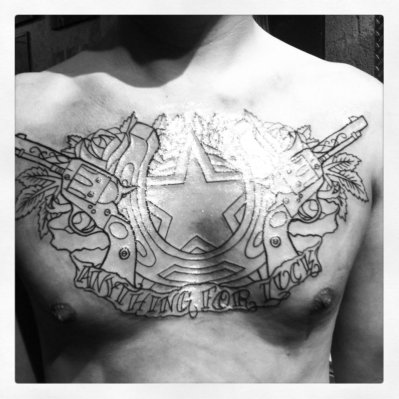 Erich Wetzel
Erich, dad of one from Fairbanks, Alaska, and currently deployed in Afghanistan
"I had wanted to get a tattoo themed towards my wife, but I didn't want to get the cliche girl's name tattooed on my arm. After a few days of playing around with it, I got the design where I wanted it. I wanted it in such a way that the average person would just think 'nice traditional tattoo' and not pry into the meaning behind it, as it is really just for she and I. Some of the tattoo is just traditional flair to hold it all, but the key elements are themed towards her. Start with the star, which is her favorite, and is always over my heart. Next is her favorite flower, soon to be in her favorite color and then I have the revolvers to remind me how far I'd go to defend her. The phrase comes from her friends calling her 'lady luck.' I didn't want to tattoo a name as mentioned earlier, and didn't want to get 'lady luck' tattooed on me either so I wanted to come up with a phrase that she and I would understand, and it clicked... 'anything for luck.' "