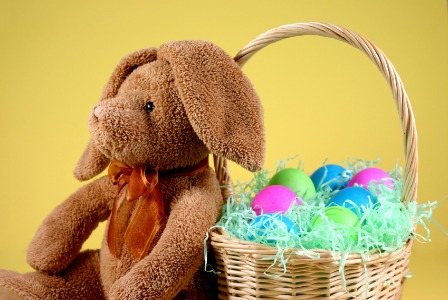 Easter doesn't have to be synonymous with hyperactivity or a trip to the dentist thanks to candy-filled baskets. There are several ways to surprise your children without including colorful pieces of high fructose corn syrup.
Don't let the bunny bring candy this year
Plan to start your candy-free Easter traditions early in your child's life to avoid any disappointment come Easter morning. Tell the Easter Bunny to get creative this year, and your kids won't even miss the candy.
Celebrate your child's hobbies
Create a unique basket for each of your children specifically designed for them. The budding artist can have a basket filled with paints, canvas, chalk and brushes while the sports fan can have a basket complete with balls, a new glove and even new cleats. Not only will your children have a special surprise that will have them cheering for the Easter Bunny, but they'll also have a new activity to keep them busy throughout the day.
Cuddle-worthy toys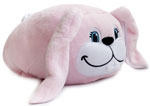 Stuffed bunnies and ducks are no strangers to Easter baskets, but the same old toys can get boring year after year. Opt for a more unique and useful version instead. This adorable hooded blanket from Comfy Critters is a stuffed animal and a blanket — all in one. Instead of having one more stuffed toy to add to their pile, your kids will have a new blanket to cuddle up with at night — and a fun, new toy, too. Comfy Critters makes a bunny, a chick and a lamb — perfect for Easter — but the company also carries other hooded animal blaknets for year 'round fun.
Give back
Instead of giving your children something, have them do the giving instead. Contact local children's hospitals or women's shelters and ask if you can bring baskets for the children. Head to the store together and select items to give to people in need, and then bring your children along for the delivery.
You could also consider sending Easter care packages to troops overseas. The memories made and the joy your children will bring to others will be immeasurable.
After you are finished, celebrate their efforts with a lunch out at their favorite restaurant.
Other fun Easter basket fillers
Seeds, gardening tools and pots
Pool or beach toys
Backpacks, lunchboxes or water bottles
Hair accessories, beauty products or perfume
Tickets to the movies or a concert
Gift certificates to iTunes or Amazon
Plan an activity
Create an Easter tradition of doing something fun like going to the zoo, a movie or the children's museum. Give them a few items appropriate for the outing like new sunglasses and a disposable camera for the zoo or a few healthy snacks to bring to the movies. Take older kids to a sporting event or out for manicures and pedicures.
A scavenger hunt is another way to add some fun and excitement to your Easter festivities. Hide practical items like a new bathing suit, bright-colored pens or books throughout your home and yard. Create a list of clues and have your children hunt down all of their items. The activity will likely last much longer than the initial joy a basic Easter basket brings.
Create coupons
Make a basket filled with coupons your children can exchange throughout the year like, "No chores for the day" or "Kid's choice for dinner." Mix in some other fun items like coloring books, crayons and craft supplies.
Treats for older kids
Luckily, your tweens and teens are no longer as motivated by candy as your younger children. Celebrate the holiday with your older kids by giving them intangible things like a later curfew one night, more computer time or more cell phone minutes. Show them you acknowledge their interests by getting them books, movies or music they enjoy.
Everything in moderation
If building an Easter basket sans candy makes you feel like a complete Easter Scrooge, add in a few pieces — but don't make candy the focus of the basket. One chocolate bunny will give your child the sweets they expect without giving them a month-long sugar high. Consider baking your own Easter treats and putting those in the basket in lieu of candy. Not only can you make healthier treats than pre-packaged candy, but you'll also know exactly what is going into the treat. For children with allergies, this could be particularly important.
More about Easter
How to take the candy out of Easter
Last-minute Easter basket ideas
Best books about Easter for kids