When It's More Than Just The Baby Blues
Many new moms get the baby blues, but some get postpartum depression or other postpartum mood disorders. Know the symptoms of postpartum depression so you can get the help you need to get well.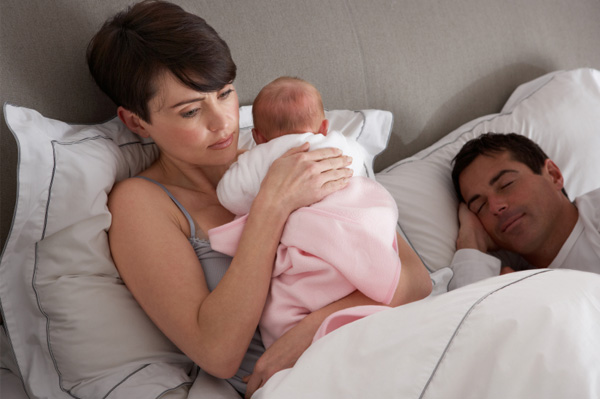 Sure, most celebrity moms look perfect and are all smiles in the days and weeks following childbirth -- at least that's what they look like in magazines or on TV. The truth is, many moms get the baby blues, and a number of moms get postpartum depression. However, many of those moms don't talk about it because, let's face it, there's a stigma about postpartum depression and mental illness in general.
Understanding postpartum depression is the first step on the road to recovery -- and having a healthy, happy mom and baby.
The baby blues
About 80 percent of new moms experience mood swings in the first few weeks after giving birth. Feeling teary, tired or overwhelmed is pretty normal. If you feel this way, symptoms should go away within a few days. It's important to understand that baby blues is not the same thing as postpartum depression.
Are you at risk?
If you have a history of depression or anxiety, you may be at increased risk for postpartum depression. Be sure to talk to your doctor or midwife during pregnancy, and if you have a history, you may want to have the postpartum depression talk before conceiving.
Understanding postpartum depression
According to Postpartum Support International (PSI), 15 to 20 percent of new moms have postpartum depression. And "postpartum" may surprise you -- while many moms tend to think of postpartum as the six weeks after birth, postpartum depression symptoms can occur during the first 12 months after having a baby. PSI says symptoms of postpartum depression may include:
Feelings of anger or irritability
Lack of interest in the baby
Appetite and sleep disturbance
Crying and sadness
Feelings of guilt, shame or hopelessness
Loss of interest, joy or pleasure in things you used to enjoy
Possible thoughts of harming the baby or yourself
Postpartum depression is just one type on the spectrum of postpartum mood disorders -- PPMD.
Other forms of PPMD include postpartum anxiety, obsessive compulsive disorder, post-traumatic stress disorder or psychosis. PSI is a great resource where you can find out more and also get support in your community.
Treatment options
"The important thing is to get help."
"It is important to get treatment because it can prevent bonding with the baby and being able to care for herself and the baby," says Dr. Erika Nichelson, an OB/GYN at Mercy Hospital.
If you're diagnosed with postpartum depression, you and your doctor will decide the best course of treatment for your specific situation. This may include talk therapy, medication or even hospitalization in extreme cases. The important thing is to get help -- and not be ashamed to admit you may need it.
Watch this video for more about postpartum health
More on postpartum depression
How to prepare for postpartum depression
Effects of postpartum depression
Treating postpartum depression