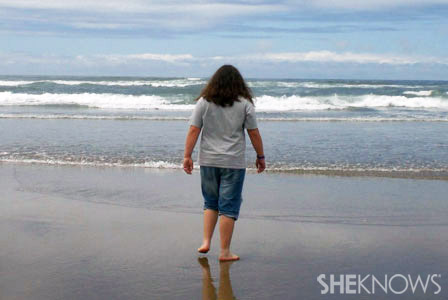 Twelve years ago, Jessica Watson's daughter was diagnosed with autism. Watson drove home from the doctor's office envisioning a bleak future for her
5-year-old.
Have hope and
hold on tight
More than a decade later, she wishes she'd been able to see all that her daughter would accomplish. Now Watson serves as a beacon to other parents on the journey of parenting a child on the autism spectrum.
Jessica Watson is a mother of five who first experienced parenting as the single mom of a daughter with autism. On her blog, Four Plus an Angel, she documents parenting a now-teenaged child on the autism spectrum, as well as two surviving triplets and a toddler. It's been 12 years since her daughter's diagnosis, and since then, Watson has become a resource to other parents, offering her perspective on everything from parenting a teen with autism to acting on early signs of autism.
A mother's intuition
As a single, teen mom, Watson had a lot on her plate. Knowing her daughter Ashlyn, better than anyone else, she noticed developmental delays. Despite being told her daughter would "get it" eventually, Watson became increasingly concerned. "Playing with toys did not come naturally to her. Neither did playing with other children," Watson says. "I would watch her near other children her age and know they were miles apart in their abilities to communicate and interact. While other children were playing dolls and 'Mommy and Daddy,' my daughter was drawing lines in the sand and trying to avoid touching her feet to the grass."
The early days of autism awareness
"The only reference people had to autism was Dustin Hoffman in Rain Man ..."
A decade ago, autism wasn't as widely known or commonly diagnosed as is today. "The only reference people had to autism was Dustin Hoffman in Rain Man, and my daughter displayed few, if any, of his characteristics," Watson says. "We spent years going to doctors and therapists and were diagnosed with everything but autism." Nowadays, many children with developmental delays begin therapy as early as infancy. Because Ashlyn wasn't diagnosed until she was 5, she missed out on the chance to have targeted therapy at an early age.
Autism from a teen's perspective
As a teen, Ashlyn shares what it's like to have autism. In 2011, Watson interviewed her and shared the responses on her blog. Ashlyn also has a gift for communicating with children on the autism spectrum. "Before her brothers and sisters came along, I was the director of an autism center," Watson says. "She was there often, surrounded by others with autism and giving us the opportunity to talk about autism openly and often. I'm amazed by her sixth sense when it comes to others with autism, especially those who are non-verbal."
Shifting sensory issues
Watson has noticed her daughter's sensory issues shifting throughout her life. As she's gotten older, Ashlyn has been better equipped to talk about her sensitivities. "If an event is too loud, she avoids it," Watson says. "She feels clothing before we buy them, she bans me from buying candles and has no problem telling her teachers that they need to give her advanced notice of all fire drills." Watson is happy to report she has recently been able to brush her daughter's hair. Every small victory counts.
Photo credit: Jessica Watson
More about parenting and autism
Parenting and autism: Amy's story
Parenting and autism: Angela's story
Parenting and autism: Miriam's story