It takes a village
Mom groups online are just as important as mom groups in "real life." My advice to all mom bloggers starting out: Find your tribe and stick with them. Here are five tips as to how to find them.
When I first started to blog, I didn't know anyone in the blogging community. I felt alone. I felt like I was on my own little island, and it was tough for me. I didn't have anyone to bounce blog ideas off of, and I didn't have anyone to ask for advice from. I didn't have anyone to travel with to blogging conferences. I really wanted to find "that group" of moms who would change all that, sort of like when I moved to Rhode Island from NYC and knew nobody in my town.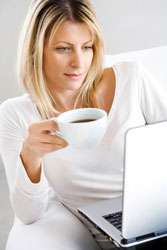 Walmart's Elevenmoms blogging program did that for me. I met five mom bloggers who changed my blogging life, and they became my blogging lifeline. Actually, we all became each other's blogging lifelines and biggest supporters.
We would help each other come up with blog post ideas. We would help promote one another in our blogs. We would tweet each other all the time. We would room together at blogging conferences. We would Skype each other all day long. We would help each other with ways to monetize our blogs. We would answer each other's questions. We became a little tribe, and it was just what we all needed.
Whenever I recommend to bloggers to find their tribe, I'm immediately asked, "But how do you find your tribe online?" So many of us have these tribes offline, but it's tough to figure out how to do the same online.
Finding your tribe

Here are my five tips for finding your tribe online because it does take a village, I'm convinced.
When I started out, not everyone was on Twitter, so I didn't get to use this social media tool to help me find my tribe. Twitter is your virtual playground. Get out there and chat, talk, laugh and share content with other bloggers like you. This is a GREAT way to connect, meet and bond with bloggers. Don't forget, too, that Twitter parties are a wonderful way to meet people.
Sometimes you just need to get out there! I met my best blogging friend Vera Sweeney at the Disney Social Media Moms conference back in 2010. We happened to be sitting next to each other at one of the events, and we hit it off immediately. I've seen this happen dozens of times with bloggers. The face-to-face contact is so powerful.
Start your very own Facebook group. Find some bloggers who are similar to you (maybe you started blogging at the same time, blog about the same things, live in the same area, etc.) and ask if they would like to start a group with you. This is a wonderful way to start your tribe and bond.
*Or if you're invited into one, I highly recommend joining!
"We've become a tribe together."
Look for a social media club in your area to join so you can meet other bloggers. One of my friends started one in Rhode Island last year (there were five of us at the time), and it's grown to more than 50 bloggers! We've become a tribe together. It's such a great way to come together locally and digitally.
I'm know this is simple advice, but it's true. Read tons (and tons) of blogs, and find ones that are similar to yours and/or blogs you just connect with. Reach out to that blogger through their blog and forge a friendship. You never know where your tribe may begin!
More on social media
How to have a healthy relationship with social media
The benefits of blogging
How to use social media to find a job