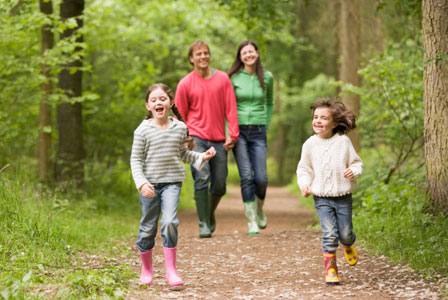 A scavenger hunt is a perfect activity for a rainy day, spring break, weekend family time or birthday parties. The creative possibilities for you are endless, and the problem solving and teamwork skills involve and engage children of all ages.
A family activity your kids will never forget
Here are some tips to create the perfect scavenger hunt for your children.
Planning a scavenger hunt
When done right, scavenger hunts are a fun activity that gets the whole family moving together. With proper planning, your clues will excite and amaze your children — creating a fun, family memory that will last a lifetime.
Consider the age of all participants so all clues, locations and prizes are age-appropriate.
Place a prize at the end of the scavenger hunt, or consider including a prize for everyone if you're going to work as a team.
Map out and walk the route to make sure you have the clues pointed to the correct locations and to time how long the hunt takes to complete.
If you're celebrating an event, model the clues and map around the theme.
Make sure the groups stay together, and don't let a group of kids walk without an adult.
Give everyone bags to collect their items. If the items won't fit (or can't easily be moved), tell each team to snap a photo of the item with a cell phone.
How to create a family-friendly scavenger hunt
Get creative with your clues
If part of the scavenger hunt is inside a house, keep one room dark and require that the kids use flashlights.
Make some clues invisible by writing on the paper with white crayon. Use a highlighter or light-colored marker to reveal the clue.
Get your neighbors involved in the scavenger hunt by planting clues in neighboring houses or yards.
Keep an outside scavenger hunt seasonal, looking for yellow leaves in the fall and dandelions in the summer time.
Scavenger hunt tips
For larger groups, split the group in half and have them compete against each other to see who can complete the hunt first. It's best to make it a competition with older kids or with kids who you know will not get upset over the competitiveness.
Make it a family outing
You don't need a party or big event to hold a scavenger hunt. Turn a day in the park into a family scavenger hunt. Make lists ahead of time, including items you know you'll find at the park, and work as a team to complete the whole list. If you have a large family (and at least two adults along for the trip), split up and see which team finds everything first.
Family fun giveaway
Enter for a chance to win $1000 toward your next family adventure.
More on family activities
Heart-healthy family activities
Family activities your toddler will love
5 Spring outdoor family activities