Celebrities Fighting
Autism
The statistics are surprising: Autism affects one out of every 88 children in the U.S. Many celebrities have been affected by this developmental disorder and have done a lot to raise awareness and funds for research. From Sylvester Stallone to Toni Braxton and Dan Marino, check out celebrities who are raising kids on the autism spectrum.
(page 6 of 6)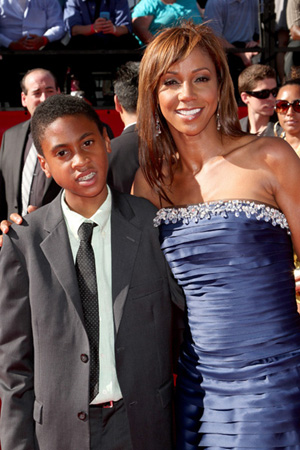 Many other celebrities have been affected by autism:
Actress Holly Robinson Peete had twins in 1997 and one of her sons, Rodney Jr., was diagnosed with autism when he was 3 years old.
Former NFL quarterback Doug Flutie's son, Doug Flutie Jr., was diagnosed with autism. He reportedly was developing normally and speaking until the age of 2, when he gradually stopped talking all together.
Actor Aidan Quinn's daughter is autistic. "The incidence of autism has gone up 500 percent since my daughter was diagnosed," says the actor, who is involved in many organizations for autism research.
Dukes of Hazzard star John Schneider's son Chasen was diagnosed with Asperger's syndrome. "Chasen responded well to speech and language therapy and went from there to occupational therapy. But some things that most children just kind of learn by osmosis need to be taught to a child with Asperger's."
More on autism
Signs of autism and everyday life with an autistic child
10 Things you should know about autism
Can food and special diets affect your child's autism?
Photos: WENN