Celebrity Baby
Bump Watch
Happy Hump Day -- also known as Celebrity Baby Bump Day! We have rounded up the cutest baby bumps in Hollywood, including Jessica Simpson (still in heels!) and a newly pregnant Vanessa Minnillo Lachey. Snooki also shows off her little guido (or guidette) in the oven, while Alyson Hannigan dresses her baby bump in plaid.
(page 3 of 4)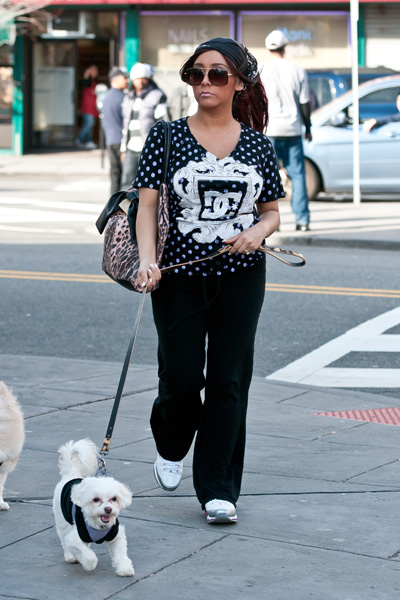 Snooki
Fresh off her pregnancy announcement, 24-year-old Jersey Shore star Snooki was spotted walking her dog around New Jersey and was dressed down in a polka-dotted top, black pants and sneakers.
The reality star, who is engaged to baby daddy Jionni LaValle, told Us Weekly her dad was not initially happy with the pregnancy news. "My dad was upset. He said, 'You have your whole life ahead of you.' He came around eventually, and now he can't wait for the baby. My mom is so happy for me," Snooki shared.
LaValle already has a nickname for his baby, which he recently tweeted. "Nicole and I are real excited!! Our baby is going to be #ShortnTan," he wrote.