Have the coolest nursery on the block
Creating your baby's nursery is your first true rite of motherhood -- it's their very first room! You want it to be perfect, so let me share with you some of the hottest nursery trends.
My sister-in-law is pregnant with her first baby, and she has recruited me to help her along the way with everything -- from strollers to baby gear and from baby books to her nursery decor. I guess after having four kids, you're seen as an "expert" of sorts. Truthfully, I could write a book because I absolutely love everything baby!
My son's nurseries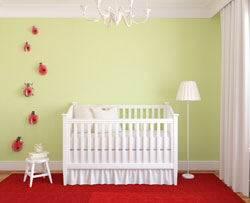 When I had my first son, we were living in NYC in a small one-bedroom apartment. We didn't have room for my clothes, nevermind a baby or a nursery. All we could fit in our apartment was a shelving unit for his clothes and a crib -- that was it. I always felt he was jipped when it came to the baby nursery department because he never had one. With my next three sons, I decorated their nurseries from top to bottom and fully embraced the fact I got to decorate one!
As my sister-in-law is preparing for baby No. 1, I've been sharing with her some of the latest and most fabulous baby nursery trends. I'm absolutely loving some of the nursery trends that are hot right now and so excited to share my top five in this week's column.
So what am I loving this week for baby nursery trends?
Lucite furniture
I can't say this is my favorite look, but modern is modern, and lucite is very in right now. If you're looking to make a splash and go very modern and contemporary, bring on the lucite mama!
"Grow with you" cribs
I cannot get over the popularity in the "grow with you cribs." What do I mean by this? Well, when I had my four sons, I bought a crib. That was it. Now? It's all about buying a crib that will convert into a toddler bed. It's all about the multi-function of a piece of baby furniture and it's hotter than ever right now (and really darn smart!).
More on nursery decorating
Shopping tips for a baby nursery
Decorating the nursery to transition from baby to toddler
Necessities for a baby nursery