Celebrity Baby
Bump Watch
Happy Wednesday Hump Day or, as we like to think of it, Celebrity Baby Bump Day! What a week for celebrity pregnancies! Jersey Shore star Snooki is pregnant and Saved by the Bell star Elizabeth Berkley announced her pregnancy this week as well! We spotted pregnant Jessica Capshaw at the Diane von Furstenberg GapKids launch and a knocked-up Kristin Cavallari wearing leather pants. Check them out here!
(page 5 of 5)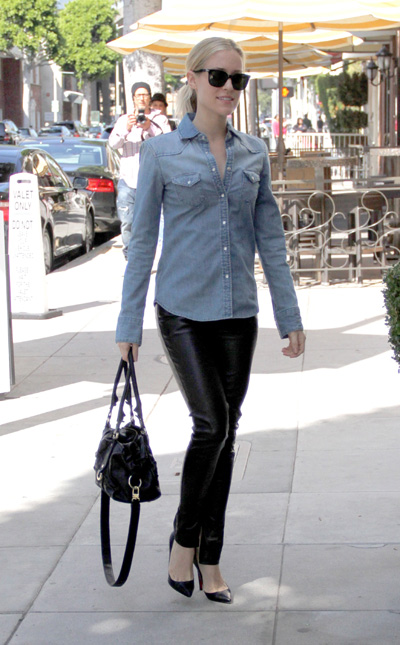 Kristin Cavallari
Pregnant reality star Kristin Cavallari isn't about to let pregnancy stop her from wearing her favorite leather pants. The Laguna Beach alum was spotted outside the Jose Eber salon in Beverly Hills wearing leather pants, heels and a denim top.
She recently confessed that she can longer fit into sample sizes and can't button her pre-pregnancy jeans -- so how is she fitting into leather pants?
"I have this thing called the Belly Band that just goes around the top of your jeans so you can wear them without buttoning them," she revealed.
Photos: WENN