My 3 favorite apps for capturing the joy in life
For what are you most grateful for today? Can you list five things? Sometimes it's tough to see all of the good things in our life, but with some practice we can get better at it. These three iPhone apps will help you foster gratitude on a daily basis.
Ralph Waldo Emerson wrote, "Cultivate the habit of being grateful for every good thing that comes to you, and to give thanks continuously. And because all things have contributed to your advancement, you should include all things in your gratitude."
And I think that's exactly it. To be grateful for all that we already have, without focusing on all that we don't yet have, is the key to true and enduring happiness.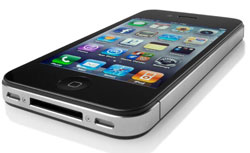 We all have things to be grateful for. The trick is to actually see those things. If you can't see the blessings that surround you, you can't fully appreciate them.
The ability to see the things around us can be learned and fostered.
And wouldn't you know, there's an app for that.
Here are my three favorites:
More helpful iPhone apps
The 7 iPhone apps moms will love
Best apps for the iPhone: Fitness apps
Best apps for the iPhone: Organization apps