Celebrity Baby
Bump Watch
Happy Wednesday hump day -- or, as we like to call it, celebrity bump day! We have rounded up the cutest pregnant celebrities of the week, including a newly pregnant Sienna Miller, Kristin Cavallari's Fashion Week maternity style, Kourtney Kardashian's cute maternity rain gear and Alessandra Ambrosio's model perfect baby bump.
(page 2 of 5)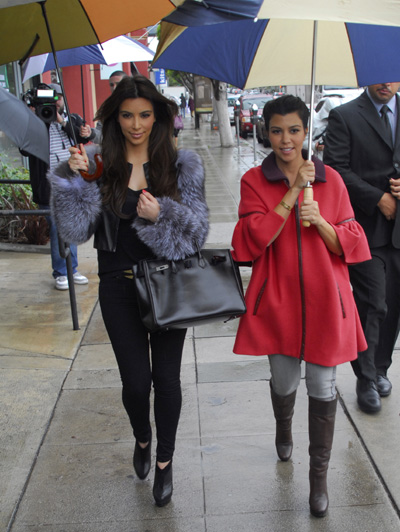 Kourtney Kardashian
Kourtney Kardashian kept her baby bump covered in a chic pink raincoat and riding boots as she left Cuvee Wine Bar in Los Angeles with her sister Kim Kardashian. Kourtney and Kim were out scouting locations for a new Dash store. Kourtney looks stylish in the rain wearing Tivi's Novelty Leather-Trimmed Wool coat ($825).
Perhaps walking in the rain put her under the weather? "Laying on the couch sick after @ScottDisick passed along his cough to me," Kourtney tweeted. "YUCK! Help! Any natural remedies for a pregnant sick girl?"