Slowing Down to Bond
Mother-daughter manicures and pedicures are often about more than polish. Here's how slowing down, minimizing outside distractions and savoring the small moments can be a great way to foster closeness with your daughter.
Like most preschoolers, my sweet girl's little feet are always busy with dancing, twirling, running or skipping.
Her fingers are rarely still, most often drawing, building towers with her Legos or playing house with her babies.
An invitation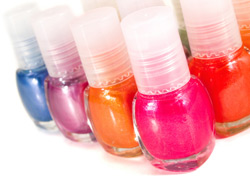 But an invitation for her to join me in the dining room for a manicure and pedicure changes all of that.
When I lift her onto the tall barstool, the busyness of world around us quiets and those small, busy hands and feet still.
Often busy planning one activity while she's still doing another, when I give her a manicure, she sits opposite me, entirely mine. In those small moments, we talk.
And we listen.
I love you
I reach for the emery board to smooth the jagged edges of her tiny nails and I ask her if she has any idea how much we love her. In the course of the day, I must tell her 20 times, but in these quiet moments with her, I know that she truly hears me.
Talking
I ask her to choose a polish, either pale pink or robin's egg blue. She chooses the blue. Always. As I carefully sweep the polish over each of her nails, I ask her to tell me which moments over the past several days have been her favorites.
And I listen.
She talks of friends at school, snuggling with her brother, piggyback rides with her daddy and reading books with me on the couch. In these moments, I can see that she is happy and I am peaceful.
I reach for the topcoat, not because she truly needs it, but because it buys me even more precious time alone with her. I list for her some of the many reasons why I love her. I speak of her kindness, compassion, sense of humor and silliness.
And she listens.
In these moments, while it's just the two of us, I can't paint slowly enough.
Listening
As we wait for her polish to dry, we tell each other stories.
We've told each other these same stories time and again, but there's joy in both telling and hearing them. She recounts camping last summer and the squirrels that ate her M&Ms.
I tell her about marrying her daddy, just how much we wanted her, how long we waited for her and how she truly made us a family.
I ask her what she would like to do in the week ahead and she lists trips to the park, painting at her easel and baking something special.
When the polish is dry and I lower her to the ground, I am so incredibly grateful for her and for these moments of true connection with her.
I always hope that her blue polish chips quickly so that it's soon time for another manicure.
Read more about creating quality mother-daughter time >>
Tell us
What's your favorite way to bond with your kids? Do you have special parent-child dates?
More about bonding time
4 Ways to embrace family bonding in the 21st century
Family bonding: Trying something new together
How to maximize family bonding time