The most fabulous books for your kids
Reading is one thing I do every single night with my sons. It's our special time to bond, snuggle and lose ourselves in a new world. I'm all about finding new reads that are must-haves, and today I'm sharing five fabulous books for you to add to your child's collection.
I'm all about reading to my sons. All. About. It.
I grew up the daughter of a Reading teacher, so every single night throughout my childhood, my mom had designated a reading time for me and my sister. We would snuggle up together on the comfy blue couch in my childhood living room and read for a solid 30 minutes. It instilled in me at a very early age a love of reading. I devoured books through middle school, high school, college and into my pre-mom days. I'll be honest -- now reading has become much more of a luxury because there's really not much time for just me to sit and enjoy a book.
So what am I loving this week?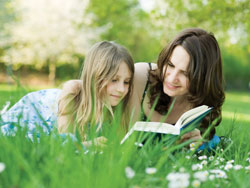 Well, I love finding books that are just truly masterpieces -- not only in words, but also in pictures and concept. Having sons that range in age from three to seven years old, it's even more important for me to find books that work for each of them individually. My oldest son knows how to read. My second son is anxious to start reading. My third son loves any kind of picture book and my youngest son loves to be asked to identify letters and numbers.
So I need to find books that we can all enjoy together one way or another, and that's not always easy to do. I'm usually a mom on a mission in a bookstore and I'm so excited to share with you five of my favorite books right now that will teach, entertain and bring on the creative juices in your children.
Alphabet by Paul Thurlby is one of the coolest books ever! My first grader even loves this book! I'm telling you, this is the most creative and fun way to teach and express the alphabet. This has become such a staple during our evenings. Wait until you see the images in this book, they are absolutely incredible. I'm am in awe of this Alphabet book and I promise you (and your kids!) will be, too! A must-have and a total must-read. I know this might sound silly, but it's like a trendy alphabet book -- there's no other way to put it.
A Zeal of Zebras: An Alphabet of Collective Nouns by Woop Studios is another book I cannot get enough of! One of my mother's friends recommended this book for my oldest son William because he's learning about nouns in school right now. I honestly thought this was going to be way too advanced for him (never mind my younger three!), but it's absolutely stunning. If you're a design-savvy mama, you will absolutely appreciate this read. My sons love going through this book over and over and over again.
Max's Castle by Kate Banks is actually my personal favorite book right now. The first thing that captured me about this book was the illustration on the front cover, there was something about it that just drew me in. This book is a feast for kids of magic, whimsy and delicious learning. I'm also going to be honest here, if you have all boys -- this will be a total winner in your house because Max's brothers come to play in this story. If you have older kids reading this with you, it's great to use to teach them about anagrams and words within words.
Animal Alphabet: Slide and Seek the ABCs by Alex Lluch is a winner for my little guys (and my big guys, too). I was on a hunt this past holiday season for some fabulous picture books, but I wanted them to be interactive for the boys. I stumbled upon Animal Alphabet and just instantly fell in love with it. I actually even bought this book for my nephews, too. There are 26 sliding panels (with a whole lot of alphabet fun) for your kids to have some additional fun with and I just love how they are truly learning, but having a ton of fun doing so with this book. (Plus, if your kids are animal lovers, this is a total must have.)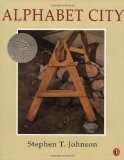 Alphabet City by Stephen Johnson is an oldie, but such a goodie! I remember reading this with my nieces back in 2002 and just thinking it was the coolest book ever. I'm totally bringing it back to the masses here. I am in love and in awe of the artistic concepts in this book. Stephen Johnson brings the alphabet alive through landscape and it's just incredible. My sons love to find real life examples of letters in the real world directly because of this book. Creative and just inspirational!
More on reading
Favorite reading tips for kids
6 Tips to help your child with reading
8 Tips to start building the best home library for your child