It turns out our parents were onto something; encouraging our children to go outside and get dirty is good for their overall development.
When I was a little girl, it was a well-known fact that I was the best mud pie maker in a five-block radius. In my years as champion mud pie maker, I learned a few things:
The dirt under the fence on the side of the house was far superior to the dirt under my mother's lilac tree.
The perfect, sturdy stick was required for mixing the dirt and water.
Dandelions were a suitable addition to the mix, but only before they went to seed.
Blades of grass were excellent, but only if they were short.
Too much water just made things sloppy.
Too thick, and they would never dry, too thin and they would crumble back into dirt.
And my mother would always pretend to eat my offerings.
Mud pie making was part science, part art, and I loved every minute of it.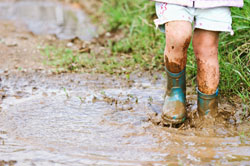 It occurs to me that if I asked my daughter, or any one of her peers for that matter, what a mud pie is and how to make one, I'd be met with blank looks.
With each passing decade, kids spend less time outside, running, playing and just plain getting dirty. By not encouraging our children to play outside and to get dirty, it appears that we're doing them a disservice on many levels.
So, I'll be teaching my children the joy of the mud pie and here's why:
It's good for the body
Study after study shows that exposing children to normal, everyday dirt and germs can help them to develop hardy and resistant immune systems.
It's good for the brain
An article published in The Science Daily discusses how researchers have identified a specific type of bacteria that is found in dirt that decreases anxiety and increases the ability to learn in mammals.
It's good for emotional well-being
Richard Louv, in his national best selling book, Last Child in the Woods, explains, "A growing body of research links our mental, physical and spiritual health directly to our association with nature -- in positive ways. Several of these studies suggest that thoughtful exposure of youngsters to nature can even be a powerful form of therapy for attention-deficit disorders and other maladies."
"encourage your kids to go outside"
So, encourage your kids to go outside and discover exactly where the best dirt is found and which random ingredients will make up the recipe for their own mud pies.
And once they've mastered mud pies, check out these fun mud-centric activities from the National Wildlife Federation.
Read more on kids and outdoor play
How to encourage outdoor play
Setting up the sandbox
What your kids can learn from the garden