New Toys For 2012
Toy Fair 2012 is taking place in New York from Feb. 12 through Feb. 15. This annual event, owned and operated by the Toy Industry Association (TIA), showcases more than 100,000 toys and entertainment products at the Jacob K. Javits Convention Center in New York City.

Toy trends
So far at Toy Fair 2012, we are seeing a number of trends emerge. As you can imagine, many of them are technology-based.
Nukotoys revolutionizes trading cards
For digitally fascinated kids, Nukotoys is launching these amazing new Animal Planet and Monsterology NUKO collectible trading cards. These cool cards contain characters and items that magically spring into action when touched to an iPad, iPod Touch or iPhone screen.
Animal Planet NUKO is a unique iPad/iPod trading card game that lets kids collect, trade, interact with, learn about and create a connection with 50 exotic and at-risk animals from around the globe. Monsterology NUKO, aimed at kids ages six and up, allows kids to collect, train, trade and play with 3-D mythological creatures from unicorns to sea serpents based on the New York Times bestselling Ology book series. Right now, the Nukotoys team is at the Toy Fair showing off their pre-launch demos and the toys will be released in the spring.
V-Tech Switch & Go Dinos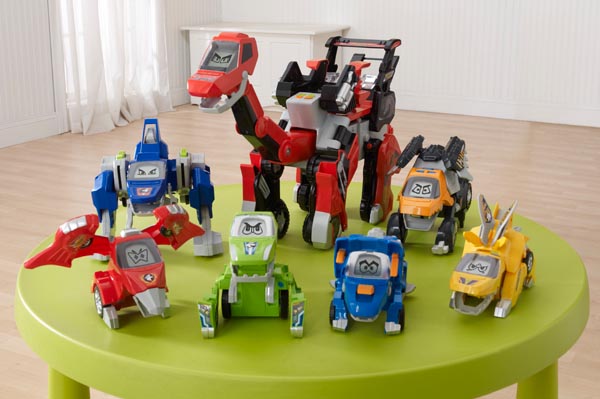 For the first time ever, two of boys' most popular toys -- dinosaurs and vehicles -- have been brought together to create a unique two-in-one play experience with VTech Electronics' Switch & Go Dinos, designed specifically for boys between 3 and 8 years old.
VTech's new Switch & Go Dinos line features seven unique and collectible dinosaur toys:
Brok the Brachiosaurus
Span the Spinosaurus
Attila the Ankylosaurus
Sliver the T-Rex
T-Don the Pteranodon
Tonn the Stegosaurus
Horns the Triceratops
LEGO gets better
At the Toy Fair, LEGO unveiled its broadest assortment of LEGO DUPLO toys ever.
"Double the size of traditional LEGO bricks on all dimensions, DUPLO bricks offer so many ways to creatively play, learn and explore,' said Soren Torp Laursen, president of LEGO Systems. "Our 2012 collection responds to our ongoing dialogue with American moms who asked for toys that provide their preschoolers with multiple play opportunities, that deliver hours of productive play and have strong price value."
Highlights include their new Read and Build kits, as well as the collection of "My First" DUPLO sets that combine building and role play while fostering little ones' creativity. If your kids love Cars or the Disney Princesses, you are in luck because they added new DUPLO collections featuring these beloved characters too.
It isn't just LEGO DUPLO that got better. You'll find new Classic LEGOs, LEGO themes and much more. Whether you are a collector or your kids just love LEGOS, you'll find so many new options in 2012. Boys and girls of all ages will be inspired to build with their open-ended LEGO building sets or with themes including city, dinosaurs, monsters, ninjas, heroes and friendship. Check out more at LEGO.com.
Watch a sneak peek of LEGO Ninjago:
Scenes from Toy Fair 2012
If you aren't in New York, you can still find out what's going on and see all the new toys in action on YouTube. Check out all the videos from the PopCultureNetwork. This video below shows off all of Hasbros' upcoming new Transformers toys for the year.
More about toys
Top travel toys for kids
Toddler toys for learning and fun
Lessons to teach while playing with blocks