Powerful Baby Names
For Boys And Girls
With President's Day coming up, we thought it was the perfect time to round up the best Presidential baby names for your baby boy or baby girl. These All-American names have a great traditional sound to them and would be perfect for your future leader.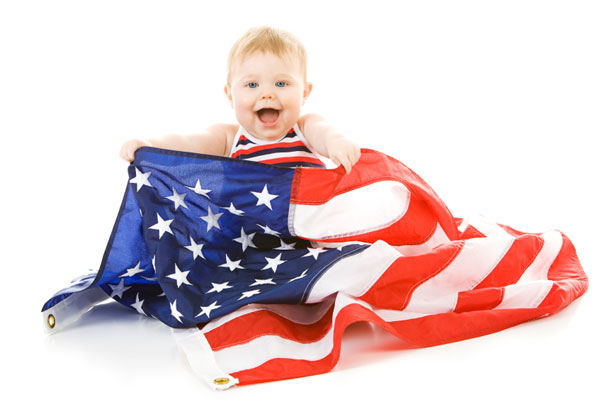 Are you looking for a strong and powerful presidential baby name? Check out our list of traditional and classic names of presidents and vice presidents, as well as names of presidential candidates that almost nabbed the top spot at the White House.
Names of the United States Presidents
If you are searching for the ultimate presidential name for your baby boy, your best bet is George or James, as there were three presidents named George (Washington, Bush Sr. and Bush Jr.) and four presidents named James (Madison, Monroe, Buchanan and Garfield).
Check out some of the first names of the Presidents of the United States:
Presidential baby names for girls
Powerful Girl Names:
Geraldine
Hillary
Nancy
Michelle

If you are raising a future female leader, let's take a look at powerful and strong women who ran for president, vice president or have held high offices in our government. Democrat Geraldine Ferraro was the first female Vice Presidential candidate representing a major political party. Hilary Clinton was one of the leading candidates in 2008 running for the Democratic presidential nomination and is now the 67th U.S. Secretary of State. In fact, Forbes has listed Hilary as the second most powerful woman in the world!
Sarah Palin is another major female power player as she was the first woman to be the Republican Party nominee for Vice President in 2008.
Nancy Pelosi has a major leadership role in our government, as the Minority Leader of the U.S. House of Representatives and she served as the 60th Speaker of the US House of Representatives. Our current First Lady, Michelle Obama, is another strong woman who is a great role model for young women.
Last names as first names
Another way to give your child a presidential baby name is by looking at the last names of our U.S. Presidents. In fact, you will find some cool and unique names that would be great for both girls and boys. Not all last presidential last names, such as Bush, would make good first names -- but you would be surprised how many would!
Check out our list of last names of presidents that could make great first names for your baby:
More baby name ideas
All American girl names: The new classics
All-American boy names
Powerful baby names